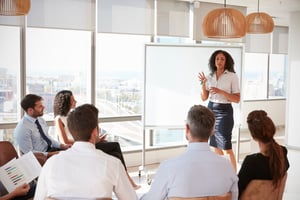 Developers and engineers may be great at writing code and designing and deploying apps, but that doesn't necessarily mean they'll be successful at their work. A big part of many developers' jobs is giving presentations to management, which requires a different skill set than coding work. And that's where many of them fall short. But it needn't be that way. InfoWorld's Andrew Oliver has tips on how to do it better in his blog post, "How to present to management: A guide for developers and engineers." Following are the highlights of his recommendation.
First, he says, you need to be clear about why you're giving a presentation. Know whether you're asking for resources, you're explaining why a project is over-budget and/or behind schedule, or helping management determine a major change in strategy or structure.
Once that's done, keep in mind what management cares about and what it doesn't, so you present the right information. Management cares about the big picture, notably benefits and risks, how the change will likely affect the organization, and whether the right people are in place for doing it. They don't care about the little details like "your web framework, computer language, or other technical minutiae," says Oliver.
What's the Best Structure for a Presentation?
Now it's time to put together the presentation. Oliver recommends starting with explaining who you are and why management should listen to you. So give a very brief bio. He says, "It's best to give more than your title. But don't give you résumé or some long bio, but do casually mention a success that qualifies you in this situation."
Next, cover the problem or what management has asked for. Oliver says: "This needs to be stated as succinctly as possible. Context may be required, but start with the statement. In general, avoid the long-form storytelling approach when defining the problem. You can use customer stories or other facts as evidence after you define the problem. This should be one slide if possible."
After that, it's down to brass tacks: Describe the costs required and provide enough detail so, in Oliver's words, "it's clear you didn't pull it out of the air. No one wants to read an accounting statement, but show your work, as your elementary math teacher demanded."
Then cover the business and strategic benefits. Oliver explains, "For example, if adding AI to your product makes you the only AI-navigated aerial assault drone and you can demonstrate that there might be demand for that, allowing you to edge out the competition—lead with that."
Next, cover the risks and how they can be mitigated, and then the alternatives you considered.
Finally, when creating the PowerPoint presentation and giving it, he says you should make sure not to create wordy slides, not to talk needlessly, and have your research done and at hand so you can answer questions.
Best Tool for Helping with the Presentation
PowerPoint isn't the only tool you'll need for a presentation. If you're giving a presentation about a new app you'll be developing, for example, it's a good idea to show a mockup, or better yet a real prototype. The ideal tool for doing that is Alpha Anywhere, whose low-code/no-code approach makes it easy to quickly build prototypes with little effort and continually iterate them.
Once you've gotten the go-ahead from management to go ahead with your project, it's the ideal tool as well. Alpha TransForm technology enables savvy business domain experts and IT departments to work together to quickly and effectively digitize business processes and deliver tangible business impact. It lets line-of-business experts build mobile apps using their insight regarding workflow needs and efficiencies, while simultaneously enabling IT to control data integration with systems of record, and data security compliance. Learn more about Alpha TransForm and take the free trial.