Republished with permission from Apperian blog. This article originally appeared on EnterpriseAppsToday on January 29, 2016.

Written by Robert Lacis, Director of Customer Success at Apperian





As companies continue to add to their portfolios of corporate apps in 2016, many enterprises will evaluate their existing
enterprise app distribution
model or determine their preferred distribution channel for first time deployers.
As with anything, there are several options for disseminating
enterprise apps
to your employees. When considering different distribution models, it's important to consider the various roles that constitute the company's user base along with the key factors that can drive
mobile app adoption
, since each of these can play a critical role in determining whether a deployment flies or flops.
Here are three enterprise app distribution models to consider for your organization's workforce:
1. ENTERPRISE APP STORE
An
enterprise app store
works best when a company has numerous apps in its portfolio wants to use a distribution model that's easiest for users to locate and download the right apps to use for their roles.
Administrators can also curate preferred third party apps that offer a better fit for organizational users based on a company's culture, management, and security preferences. With a private app store, administrators can also control which apps are featured and where they are placed, including features such as "recommended apps" to drive company-wide adoption.
Enterprise app stores can replicate the consumer app store experiences that users have become accustomed to. In addition to making it easy for users to discover apps, enterprise app stores can also be used to highlight screen shots, app details, and other capabilities such as links to training videos just as users have become accustomed to with consumer app stores.
2. CORPORATE PORTAL
A corporate portal works best when end users have already made this resource part of their daily workflow and regularly accesses it. Corporate portals can also be used to distribute secure and policy-enabled apps and maximize existing infrastructure and IT investments.
3. DIRECT DOWNLOAD LINK
Need an app to be sent out quickly and easily? Post the right web link through the right channel to make an app available instantly. Web links can be sent via email to a small population or user group, launched from a QR code, or can be embedded in newsletters. This works well if there isn't another good place to provide access to the app (e.g. if a corporate portal doesn't exist, and if there aren't enough apps to warrant an app store). Meanwhile, using Direct Download Links in tandem with
universal app distribution
ensures that downloaded apps are fully secured, managed, and can be distributed without requiring the device itself to be managed.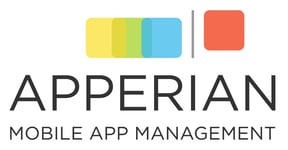 CONCLUSION
Understanding the roles that administrators are trying to reach with specific apps, along with the degree of urgency for getting the right apps to users, plays a vital part in determining the most effective distribution model for your organization.
Here's a
video sneakpeak
of what a great enterprise app store can look like.
Learn more about the
benefits of using an enterprise app store and how Alpha Anywhere works with Apperian
.
Learn more about securely distributing apps to managed or unmanaged devices with MAM with
Apperian's Definitive Guide to Mobile Application Management
.