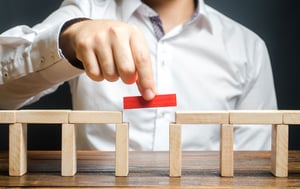 By now it's an accepted fact that the best low-code and no-code app builders are ideal for "citizen developers," business experts with little or no training in coding. The platforms will allow groups outside traditional IT to write powerful, fully functional applications.
But a growing chorus of people are saying that low code platforms will do more in 2021 and beyond --- they'll take over enterprise app development, and become a core part of IT.
---
The low-code/low-code market will grow more than 44% each year through 2026, according to Verified Market Research.
---
That's the conclusion of the article, "Why low-code and no-code are the future of enterprise applications."
The article says IT faces five main obstacles today. First is a lack of bandwidth: "IT developers are inundated and don't have the capacity to keep up with internal demand for custom applications." Next, is inadequate budgets. Third is obsolete legacy systems. The article says, "Although there is a clear need to modernize outdated systems, untangling them from business processes and replacing them with agile digital systems is disruptive and expensive."
Fourth is the skills gap – non-technical business users can't build the code-intensive apps they need for their everyday work. And fifth is IT needs to maximize developer productivity.
Low-code/no-code platforms solve all those problems, the article says. And because of that, it says, they will eventually take over enterprise app development. It points to a study by 451 Research that concludes low-code/no-code platforms can increase developers' efficiency by between 50% and 90%. And it also notes that John Rymer, VP and Principal Analyst of Forrester says low-code development can speed up software development by a factor of ten.
The article says the platforms can be used to build complex, enterprise-wide applications, not just simple applications that individual departments need. It says they can create "comprehensive, robust, scalable, and secure solutions" for corporations with thousands of employees.
It adds, "Low-code/no-code platforms enable and empower businesses to fulfill the demand for new enterprise applications without overburdening IT, depleting resources, or filling high-cost talent shortages — three significant barriers to enterprise application acquisition and development."
The article isn't alone in claiming this. Many other analysts say low-code/no-code will become ubiquitous in enterprises. Gartner forecasts that three-quarters of large enterprises will use four low-code development tools or more by 2024. In fact, Gartner says low-code development platforms will be responsible for more than 65 percent of all application development by that year.
Verified Market Research adds that the low-code/low-code market will grow more than 44 percent each year through 2026. It will reach $112.43 billion by then, the research shows.
The Best No-Code/Low-Code Platform for You
Alpha Software is ideal for developers and citizen developers looking to buy the best no-code/low-code platform. Alpha Software products are well-suited for companies of all sizes that want to build powerful business applications and apps quickly. Users can craft online or offline mobile apps in minutes that utilize the latest mobile features (camera, GPS, etc.) for fast, accurate data capture. Developers can build robust field apps that can easily access and integrate with any database or web service and can exploit built-in role-based security or robust offline functionality.
The Alpha Anywhere Community Edition low code development platform lets you build all the business apps your organization needs for free. Download the software now and start building.