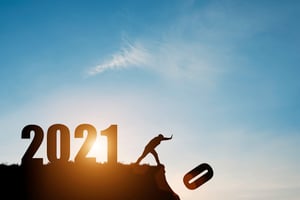 As 2020 turns into 2021, prognosticators agree: 2021 will be the year that low-code/no-code platforms will dominate app development. Although that's been said in years' past, this time around, multiple analysts and experts say the platform's time has finally come.
ITProToday predicts just that. In looking back at the most important stories of 2020 in its article, "Enterprise Productivity Tools, Low-Code/No-Code Flourished in 2020," it notes that the pandemic helped low-code/no-code become more popular. In addition, in 2020, the article points out, Microsoft, Google and Amazon either introduced or expanded on their low-code/no-code offerings.
In 2021, the ITProToday article says, low-code/no-code usage will grow. The article concluded, "Expect these low-code/no-code tools to expand and gain more functionality into 2021 as this trend continues to be solidified across multiple sectors."
Developer Survey Reveals 2021 Low Code Trends
DevOps.com adds to that in its article, "Low-Code To Become Commonplace in 2021." It points to a survey of IT workers and engineering staff that found "85.1% believe implementing low-code and no-code will become more and more omnipresent within their company" in 2021.
---
First 2021 Low Code Prediction:
Low-code and no-code will become more omnipresent in companies in 2021.
---
The reasons for this? Companies have doubled down on digital transformation, but there's a dearth of development talent available for getting it done. The article points out that one in three organizations has implemented a hiring freeze, making new development even more challenging. That's why low-code-/no-code will become so prevalent in 2021, it says.
---
Second 2021 Low Code Prediction:
Low-code and no-code app development will become an essential focus or high priority for more development teams.
---
The article says the survey found, "Most companies (75.2%) have already implemented a combination of low-code and traditional engineering methods. It appears that low-code is complementing existing software engineering practices at a number of institutions. In addition, 28.8% of respondents predict low-code and no-code will become a high priority in the coming months, and for 21.6%, it will become an essential focus."
---
Third 2021 Low Code Prediction:
More non-developers (citizen developers) will build apps for internal business use.
---
An increasing number of citizen developers will use low-code/no-code to write much-needed applications, the article predicts. It adds that it's already happening, according to the survey: "Seventy percent of companies said non-developers in their company already build tools for internal business use, and nearly 80% predict to see more of this trend in 2021."
---
Fourth 2021 Low Code Prediction:
Citizen developers will become a positive force on engineering teams.
---
You might expect that IT and developers would fight this trend. But the article points out that the survey found that's not the case. The opposite is true. The article says, "Surprisingly, bringing non-traditional engineers into the development fold is not being met with ambivalence—69.2% of respondents foresee that citizen developers positively affect engineering teams, with the rest primarily exhibiting a neutral reaction."
Citizen Developers Will Affect Low Code Development
There's other evidence that 2021 will be the year of low-code/no-code development. Jeffrey Hammond, Forrester vice president, and principal analyst has authored a report that predicts the rise of low-code/no-code. In an interview about the report, he said that low-code is "potentially going to change the way that we organize the software development teams." He expects that citizen developers will work more closely with IT because of low-code, and that it will become ubiquitous.
In 2021, the market for low code solutions will become more and more competitive, as developers demand richer features. At the same time, with over 200 low-code and no-code vendors competing for market share, cost for low-code software will fall.
---
Fifth 2021 Low Code Prediction:
More experienced developers and citizen developers will use free low-code software.
---
For example, Alpha Anywhere is popular with thousands of skilled developers arounds the world, This low-code app development software has won accolades and prestigious awards for its ability to produce cross-platform business apps that can integrate with business systems and work without a WiFi or cell signal. In late 2021, the Company that produces Alpha Anywhere low-code development platform released a free version of this award-winning product. With more developers downloading and building apps for free, we expect the popularity of the software to grow in 2021.
Now, any developer can produce as many apps as they need with Alpha Anywhere Community Edition -- there are no limitations on the number or complexity of apps you can build. Take as long as you need to build and test your apps, then when you're ready to publish you app, deploy to the cloud for as little as $99/month. Learn more and download the free software.