Recently, we explained what a Mobile Center of Excellence is and why organizations should consider establishing one to marshal all the web and mobile app requests bubbling up from lines of business.

Gartner is working with some of the largest and most innovative organizations in the world, many of which have established a Mobile Center of Excellence (MCOE). Yet in those cases where Gartner clients report that they haven't realized the expected value of a MCOE, the analysts have identified some common problems.

In the recent report, "Top 10 Mistakes to Avoid to Maximize Success With Your MCOE," Gartner analysts Leif-Olof Wallin and Bryan Taylor list the frequent mistakes companies make when establishing a MCOE that derails the effort or reduces the potential value of the initiative. They include: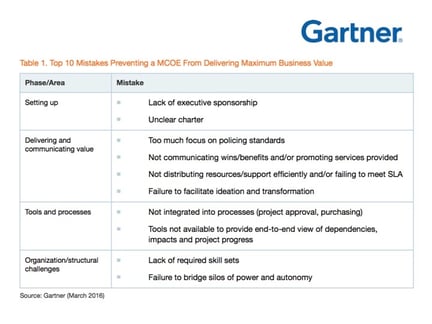 Source: Gartner "Top 10 Mistakes to Avoid to Maximize Success With Your MCOE," March 2016
Lack of Executive Sponsorship
Too Much Focus on Policing Standards
Not Communicating Wins/Benefits and/or Promoting Services Provided
Not Distributing Resources/Support Efficiently and/or Failing to Meet SLA
Failure to Facilitate Ideation and Transformation
Not Integrated Into Processes (Project, Approval, Purchasing)
Tools Not Available to Provide End-to-End View of Project Progress
Lack of Certain Skill Sets
Fail to Bridge Silos of Power and Autonomy
The report details each of the mistakes and proposed strategies and tactics for making sure you avoid these mistakes and get maximum MCOE value.

Read whether establishing a Mobile Center of Excellence is right for your organization.