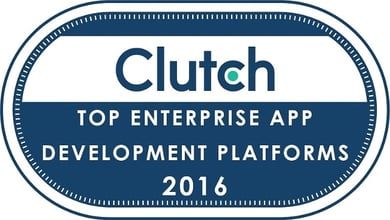 Clutch, a B2B ratings and reviews firm located in Washington, DC, recently announced released it's 2016 report identifying top enterprise app development platforms. The firm named Alpha Software as one of the 7 vendors with the best platform on the market. Alpha Anywhere received the most perfect scores of the group on the clutch website.
The review process included quantitative and qualitative factors. Clutch analysts interviewed platform users to understand how they interacted with each platform, what some of the key features were, and how users viewed the vendor's support included, The selection process also included a review of the vendor's market experience and presence.
"These platforms allow enterprises to implement their mobile strategy on a secure, unified platform and deploy apps on various mobile operating systems," explained Chandler Dunklin, lead app software analyst at Clutch. "These platforms distinguish themselves with their focus on security and scalability, when compared to other app development options

To read more about this report, click here.




To read about other recent awards and accolades Alpha Anywhere received from the market, click here.




To learn more about why Alpha Anywhere continues to beat customer expectations, click here.