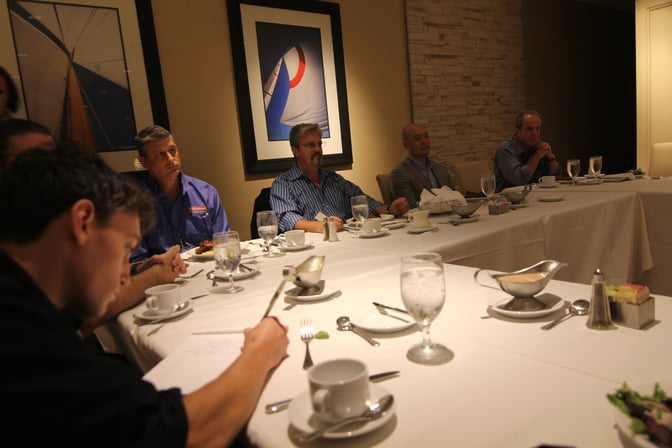 (From Left:) TechTarget's Fred Churchville, DAIKIN's Daniel Santucci, MedStar's Bruce McKinnon, Gartner's Jason Wong and Alpha Software's Selwyn Rabins during an Alpha DevCon 2016 luncheon


TechTarget Associate Editor Fred Churchville attended Alpha DevCon 2016 last week and wrote about lessons learned at the event. In particular, he was intrigued by talk about JSON and mobile apps. In his article "Announcements at Alpha DevCon verify dev world's move to JSON data," he discusses why JSON will speed app development, particularly around data integration and why it's a must-have skill for developers today.

Experts at Alpha DevCon made it clear that "businesses that are not comfortable working with data in the JSON format risk falling behind in the application development race." He then highlighted work Alpha Software has done to make it's Alpha Anywhere rapid mobile application development and deployment platform easier for developers to work with data in the JSON format. He offered one example presented by Alpha Software CTO Dan Bricklin during one presentation:

"For example, [Bricklin] noted how the [Alpha Anywhere] ViewBox controller, which is designed to help developers create controls with specific behaviors, allows developers to work on JSON data directly, giving them more flexibility to create powerful applications."

"The world has moved to the JSON format," Bricklin said during his presentation. "You better all be comfortable with it soon."
Churchville also interviewed Gartner Research Director Jason Wong, also attending Alpha DevCon 2016, who reiterated Bricklin's predictions:

"'JSON is REST, and REST services are pretty much the new way of integration,' Wong said. 'When you talk about APIs and integration, you're talking about REST.'"
"Wong pointed out that the asynchronous, lightweight and discoverable characteristics of REST, in addition to its ability to facilitate integration and connect with APIs and microservices, make it attractive for modern developers. He also added that it is ideal for mobile apps, which tend to call services from multiple, diverse systems."

Read the full article on Alpha DevCon from TechTarget.

Read more about some of the news and content coming out of DevCon.