We're pleased to announce the dates and location for our annual user summit:
Alpha DevCon 2016
September 20-23, 2016 · DoubleTree by Hilton Boston North Shore, Danvers, MA (25 minutes from Boston)

This year, we expect to dwarf last year's attendance and add a number of new networking opportunities, special evening events, partner programs and learning opportunities. Alpha DevCon is the best opportunity for current users to see what's coming next and gain new paths to productivity, and for new users to learn what makes Alpha so special – directly from other users and through training sessions.

Who will be there?

Our annual user summit assembles a wide range of developers, business leaders, recognized mobile strategists and Alpha's full management and engineering team. A big focus this year will be the future of mobile devices and apps in enterprises. Speakers will share visions, best practices and practical examples of integrating and scaling offline mobile apps – with powerful mobile device features -- that serve large and diverse groups of field employees. For four days, attendees will see companies, analysts, and executives leading the industry with insight into some of the most innovative B2B and B2E mobile app projects in business today.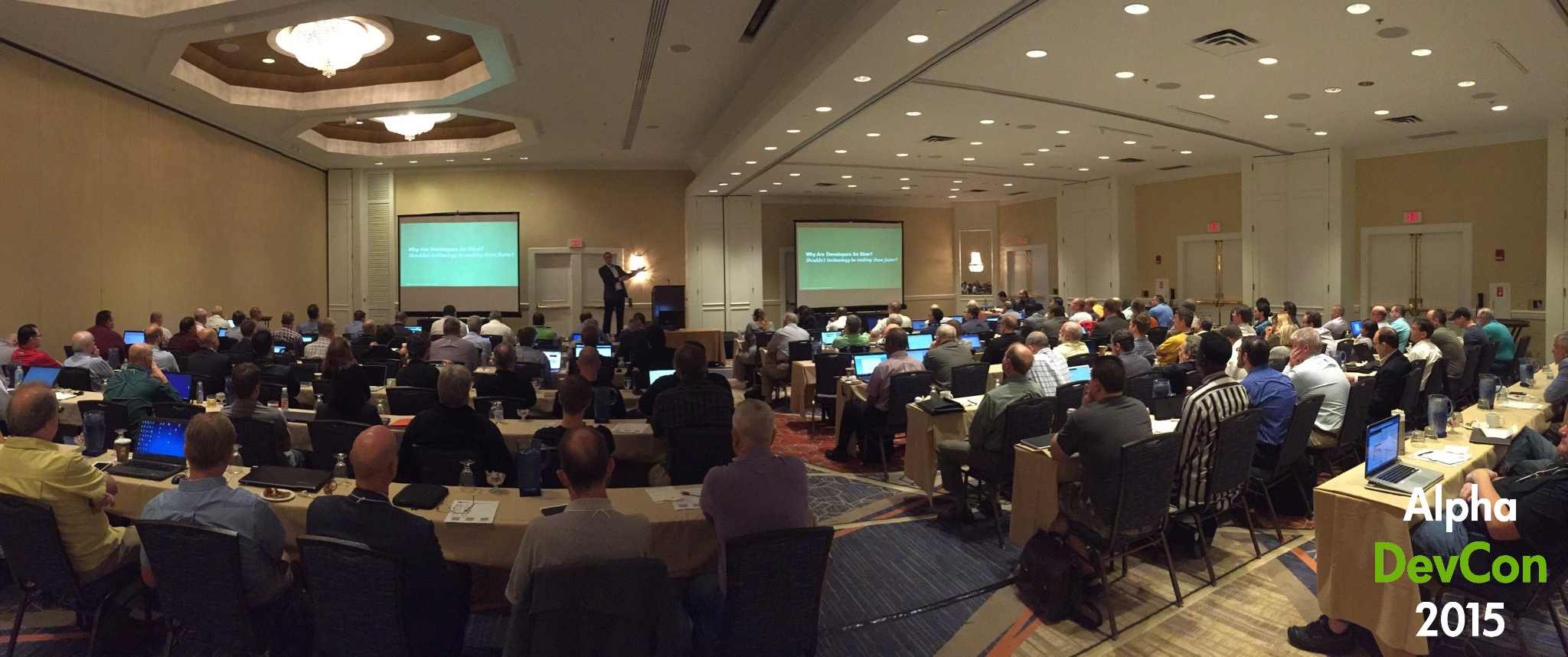 Why Attend?

For four days, you will meet and network with developers, business analysts, and executives working on some of the most innovative B2B and B2E mobile app projects in business today. During the week, there will be many opportunities to network and exchange ideas with other professionals tasked with the same types of application development initiatives that you are working on. At the same time, you'll be able to speak to Alpha Software executives, product engineers and integration experts who will discuss your projects with you, share tips and present outstanding training content.


Keynotes and panels focus on the future of mobile technologies and strategies for successful app development and user adoption in the enterprise.
Training sessions are designed to help developers of all levels, including citizen developers, learn to rapidly build secure, offline mobile and web apps.
Breakout sessions will feature:



Alpha Anywhere engineers presenting basic how-to's, technical overviews, and advanced techniques for better app development,




Alpha Software customers sharing best practices for successful app development and adoption, and streamlined development approaches,




Alpha Software partners explaining how new technologies and approaches can enhance mobile apps.






We've negotiated a very competitive room rate of only $139/night for Alpha DevCon attendees, but have a limited block of rooms at this low rate.