As I've written before, Google is rolling out mobile-first indexing, which means it will use the mobile version of a site for indexing and ranking rather than the desktop version. (For details about the implementation, read this blog post on the Google Webmaster Central Blog.) With these new changes from Google, now it's more important than ever to optimize for mobile first.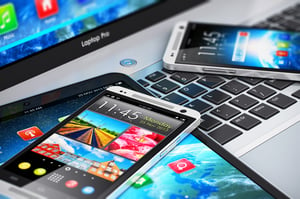 The move means if you've got both a desktop and mobile version of a website, and the mobile version is poorly executed, your Google search rankings will suffer. And if you have no mobile version, even though your desktop version will be indexed, your mobile search results will suffer. The end result: Fewer visitors to your site.
That puts a much bigger emphasis on making sure your mobile web site is as high quality as possible. There are some excellent tips for doing that in Brian Harnish's Search Engine Journal blog post, "Mobile Optimization: 12 Best Practices for the Mobile-First Era." Following are some of his best tips.
His first tip: "Above the Fold isn't entirely gone." So even though on mobile sites there's endless scrolling, he says there's good reason to put the most important information at the top, to give someone a reason to scroll.
Also vital, he says, is that you use responsive design techniques. These techniques make sure that the web site will automatically show at the ideal size and resolution for difference devices and screen sizes. He also recommends that you "don't use intrusive interstitials to sell your product." It will chase off customers. In addition, he says, "It is important to note that Google does penalize for intrusive interstitials."
He issues another warning as well: "Don't use Flash video." As he notes, one would expect that web designers and developers would recognize by now how problematic Flash is. But that isn't the case. He writes: "This should be a common practice in this era [not using Flash], but I still see sites using it. Flash video went the way of the dinosaur as soon as Adobe bought Macromedia and discontinued it, paving the way for HTML 5 video. If you aren't using at least HTML 5 video on your website, your users could be suffering."
If you're looking for the best tool to build a mobile-friendly website and apps, consider Alpha Anywhere. It's the top rated rapid mobile application development and deployment (RMAD) platform (on Gartner Peer Reviews) and it lets you build mobile or web apps/site using its unique "coding optional" low-code approach. Apps built in Alpha Anywhere can be self-hosted or on the Alpha Cloud.