For a recorded Webinar around this Slide Show along with a demo please go here For overview of why Alpha Anywhere 3.0 is worth checking out, please click here. For more info on what is new in Alpha Anywhere 3.0, please click here.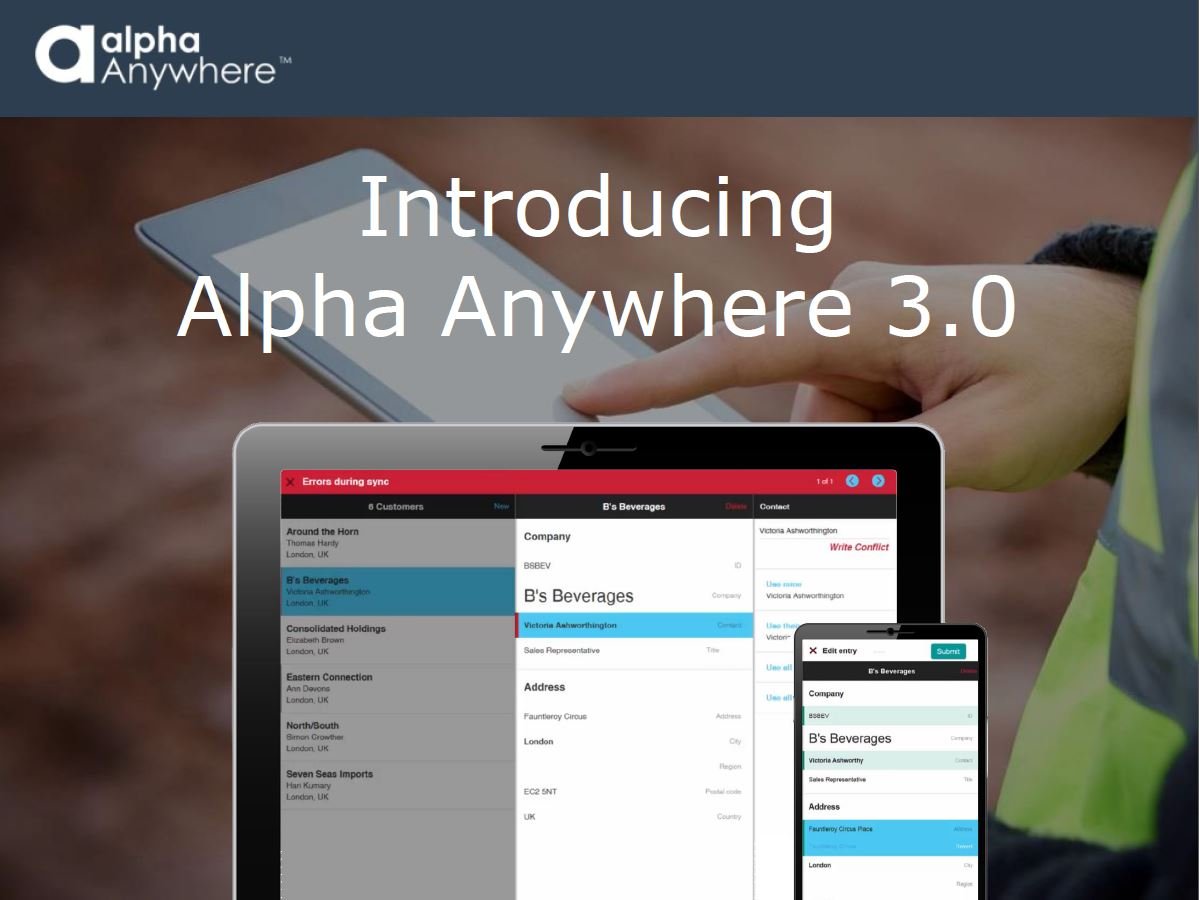 What's New In Alpha Anywhere Version 3.0?
•Many, Many New Features •'Headline' New Feature is Support for Disconnected Applications •List Control Enhancements •Useful for Standard Web Apps and Mobile Apps
Miscellaneous New Features
•New Video Finder •Working Preview –Chrome •NoSQL Database –Mongo, Couch •Improved Client-side Templates •Alternative Login using Google, Facebook, Twitter, LinkedIn •CURL •JavaScript Syntax Checker •Interactive Window Shell Commands –CMD, Node, CURL •List Control –Many New Events and Methods •Security Framework –Active Directory •Twitter API
Disconnected Mobile Applications
•Pure HTML5 Solution •Based on the List Control/DetailView Combination •List Control Data Represents 'In-Memory' Tables•Support for Hierarchical Data •Data Persisted to Local Storage. OnPersistEvents –EncryptData at Rest •Built-in 'Local Storage' Manager •Search Part -User Enters Criteria to Select Records to 'Take Off-line' •'Search Result too Big' Events •Geography Support •Capture Location at Timeof Edit •Capture Location at Timeof Sync •Quick Setup Genie
Data Synchronization
•Two Way Synching –Client-to-server and Server-to-client •Automatic Generation of SQL to Update SQL Databases •Support for Custom Synchronization Handlers •Automatic Handling of Write-conflict Errors •Resolved by User or Programmatically Resolved •Automatic Handling of Server-side Validation Errors •Synchronize Data in Batches •Transaction Support •Rich Event Model –Server-side and Client-side
List Control
•Built-in Detail View •Built-in Search Part •Individual Search Controls, Keyword Search, Query by Form •Client-side or Server-side Searches •Quick Setup Genie to Add Search Part to Existing Lists •'QBF' Syntax Supported •a..m,paris,london,t..