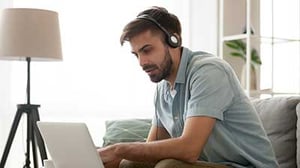 Across the United States and the world, countless people are being told or encouraged to work from home due to the Coronavirus (COVID-19) pandemic. Facebook, Amazon, Apple, Microsoft are just some of the world's most well-known companies making that recommendation. This week, Google told it's 100,000 North American workers to work from home until at least April 10th. But it's not just tech companies taking action. Businesses of almost every stripe are also asking their employees to work from home, including the Washington Post. Washington, New York and Massachusetts have made similar requests to government employees under States of Emergency. And the federal government is making contingency plans for hundreds of thousands of workers to work remotely full-time.
But working remotely is easier said than done — a big reason why so few people up until now have worked remotely. The Bureau of Labor Statistics reports that only 29 percent of employees in the United States worked remotely in 2018, the last year for which the statistics are available.
---
Easier said than done:
The Bureau of Labor Statistics reports that only 29% of U.S. employees worked remotely in 2018, the latest statistics available.
---
There are myriad problems with working at home for employees, including issues like getting access to company resources, and less-obvious small ones, such as filing time sheets in order to get paid. Remote employees can't even access the paper forms passed around and used at the office. And one of the biggest problems of all is how executives can manage their teams remotely.
There's help at hand, though. Companies are turning to mobile apps to solve the problems remote workers and remote managers face. The article, "How Mobile Workplace Apps can help Remote Employees and Managers Work More Efficiently," notes three primary problems with remote work: Employees can't reach out to each other quickly enough, they can't share work fast enough, and key information can't be easily captured. The article concludes, though: "By rolling out a mobile workplace app you can help solve these critical communication issues between managers and employees."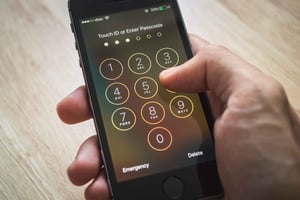 If you're looking for advice about how to use mobile apps and mobile forms for work-at-home employees, the article "Use Mobile Apps To Efficiently Handle A Remote Team," offers some simple, succinct advice. First, it says, "Make a laundry list of all things that your business needs to run your operations seamlessly. This starts with setting up a scalable recruitment process, training them, offering tools to collaborate, running marketing processes, dealing with customer support, and finally, accounting."
Once you've done that, the article suggests: "Some functions can be fulfilled by standard app elements like forms, messaging functions, live chat, online payment gateways, video chat, etc." These types of apps can be crafted and integrated, using solutions like Alpha TransForm, without requiring coding.
After simple solutions have been quickly built, there could be custom solutions required. The article gives some remote work app examples:
a sales management app allowing sales directors to plan strategies and keep others updated,.

an internal app to assign tasks from clients to various employees,

an app that handles the bidding process and manages open projects with contractors,

an app that records team or client phone and video conversations for transcription and sharing.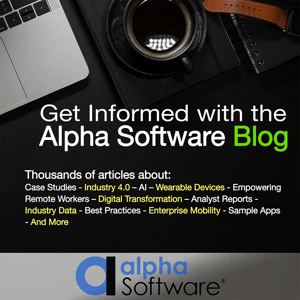 In these cases, it may be necessary to go paperless build custom mobile apps, using development products such as Alpha Anywhere, to meet each of these needs. The article recommends, though, that you don't overload your employees with too many mobile apps for working at home — a dozen is clearly too much. Instead, it says, stick to three or four, which "brings better organization to your workflow and makes it more seamless."
The Fastest Path to Mobile Apps at a Critical Time
Need simple data collection apps built fast for your remote workers? Alpha TransForm is an ideal platform for building mobile apps FAST. With Alpha TransForm, users can craft online or offline mobile apps in minutes that utilize the latest mobile features (camera, GPS, etc.) and APIs like FHIR that speed data capture on mobile devices. Should additional functionality be required, Alpha Anywhere can take those apps further or build more complex apps from scratch, with advanced integration with any database or web service, advanced offline functionality built-in role-based security or more advanced offline functionality. Learn more and take a free 30-day trial.
---
Further Reading: