Retail mobile apps offer the most direct line to consumers.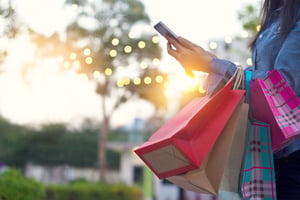 Mobile shopping looks as if it's going to have the biggest year it's ever had. That's because retail mobile apps offer the most direct line to consumers. A new report from App Annie, "Retailers: Why Data Should Drive Your Mobile Strategy," found that "in today's retail industry, consumers are turning to mobile first when they're planning on making a purchase," according to Lexi Sydow, App Annie Market Insights Manager.
The report shows just how engaged users are with retail mobile apps. Consumers with mobile devices spend almost 50 minutes in shopping apps every month, it found. Downloads of shopping apps grew 20% in 2017. And consumers interact 2.8 more times in retail mobile apps than they do using the mobile web. All this points to a simple fact: Consumers increasingly are mobile first when considering making a retail purchase.
For companies looking to make the most out of retail mobile apps, Sydow offers some solid advice in a Q & A with App Developer Magazine. Her most important advice: "Mobile apps are key to success in retail and should be prioritized as a primary channel to reach customers."
But just releasing a retail mobile app isn't enough. You need to build it right. So, she says, "The first step to a successful app is building relevant features and a personalized experience. The second is getting users to download the app. Without users, even the best app won't succeed. Therefore, User Acquisition (UA), should be an active and ongoing effort, not a passive exercise."
Sydow points out that the App Annie report found that the mobile apps of digital-first retailers get more average sessions per month than bricks-and-clicks retailers, and so get more revenue opportunities. Because of that, she says, "Bricks-and-Clicks apps need to focus their attention on increasing their sessions per user in order to increase their top line."
Finally, she says, "increasing browsing capabilities, loyalty programs and product recommendations can increase the time spent per user in-app which can have a material impact on a retailer's top line." Also helpful is finding a partner who can advise on the best strategies for driving ROI.
The App Annie report, "Retailers: Why Data Should Drive Your Mobile Strategy," also offers advice for developers writing retail mobile apps. First, it recommends eliminating checkout friction, so that it's easy as possible for consumers to make their purchases. It also says that engaged customers should be rewarded with loyalty programs. And search tools should be prioritized, because "Search converts at 2.6x higher rate than non-search for purchases in apps."
If you're looking for the right tool to build a retail mobile app, try the Alpha Anywhere. This app maker offers complete business application development and deployment environment that makes it easy to build mobile apps quickly. It handles all client and server development features. With Alpha Anywhere, the client is aware of the back-end and vice versa; they work in unison. Enterprise level reporting, geo-location/mapping tools, charting, scheduling, media handling (including offloading options to the cloud), Action JavaScript, Curl and .NET support, portable SQL, and responsive design are all built in, and can be easily added to apps on the fly.