In the wake of the devastating Ohio train derailment, we discuss the importance of railroad safety, new fines to deter carelessness, inspection and safety software that can help make railways safer.
Since the first railway introduction in the 17th century, safety has always been a delicate issue. In the aftermath of the recent Ohio train derailment, it is a topic that has received increased attention from the national and international media.
Is there a solution to tightening safety on the railway that is more accessible than many people think?
The Impact of the Ohio Train Derailment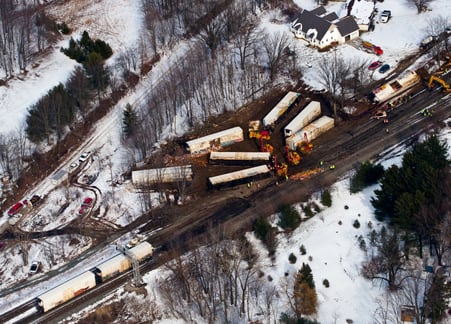 According to a preliminary report from the National Transportation Safety Board, an overheated wheel bearing on a Norfolk Southern railcar was the most likely cause of 38 cars of a train derailing. The wheel-bearing failure occurred on a hopper railcar hauling polyethylene plastic pellets near the front of the train on February 3rd.
In the accident, 11 tankers carrying hazardous materials caught fire and began impacting people and wildlife in the surrounding area. According to a USA Today report, the Ohio Department of Natural Resources estimates that over 43,000 animals died in and around East Palestine in the three weeks after the train derailment. Officials believe that the thousands of fish killed died instantly.
More than 4,700 residents of the area have complained about illness in the weeks since the burn and wonder what impact the hazardous materials had on them. Now they worry about long-term health and environmental risks for their families, pets, area wildlife, and crops.
Increased Fines As Lawmakers Buckle Down on Safety
Following the incident, lawmakers on Capitol Hill reached a bipartisan consensus, calling for changes to rail safety regulations.
A group of lawmakers, including Ohio Republican Senator J.D. Vance, recently introduced the Railway Safety Act of 2023. The objective of this will apply additional safety rules, increase fines for safety violations, enforce added safety inspections, and require companies to notify states when trains carrying hazardous cargo will travel through their borders.
In addition, Transportation Secretary Peter Buttigieg requested that Northolk refocus its efforts on railway safety. While Norfolk Southern's safety record and the industry's business practices are questionable, some parties have asked whether the Biden administration is doing enough to assist the East Palestine community.
Will Fines Increase?
Buttigieg has voiced his intentions to raise the fine cap for railroad safety violations to better protect citizens. The hope is that higher fines will serve as a major deterrent to the industry's powerhouses, and make them more proactive and accountable for rail safety.
According to federal regulations, the existing maximum fine for safety violations is $225,455. Last year, Norfolk Southern's revenue was $12.7 billion, so there definitely seems to be a strong argument for putting hefty fines in place to hold railroad companies more responsible for preventing these types of accidents.
But this focuses on punishing bad outcomes. What can rail companies do now to proactively improve railroad safety?
Could Inspection Apps Be the Answer to Tightening Railway Safety?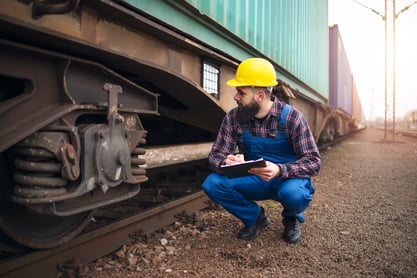 One solution is to tighten safety from the start. The question is how best to achieve this goal. Fines are a great incentive, but the system will really improve when companies take steps in advance to prevent these catastrophes.
Investments in innovative or additional safety equipment and increasing daily inspections are some suggestions. Another is to expand the type and amount of data that these organizations collect. And how can we improve getting inspection results, schedules and inventory lists to key decision-makers in rail organizations, transportation regulatory agencies, and state officials more quickly?
Many businesses are looking to build inspection applications that work on any mobile device and can collect information anywhere and share it instantly.
Digital data collection reduces the possibility of mistakes and lost paperwork. They also enable faster analysis and sharing of critical information and reports or PDFs.
How Inspection Software Can Help Railway Companies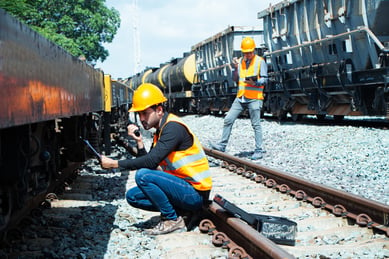 Instead of using clipboards and paper, inspectors can use smartphones or tablets to quickly inspect rail, trains, poles, and cargo, sharing hours off inspections.
Paperless inspections not only save time and money, but they are also more accurate. They can collect more information than traditional paper, from audio to photos to time and location stamping. An app can map directly to an organization's unique inspection process and reports and analytics can identify problems that need immediate fixes, and track progress on improving or falling safety scores over time.
Because they help rail inspectors collect data faster, they can help these professionals conduct more safety and equipment inspections every day. They can identify necessary repairs or safety hazards faster than traditional paper processes.
One Example: Digitizing Inspections Provides an Advantage
PG&E provides an excellent example of replacing old, error-prone paper process with an inspection app.
According to federal law, PG&E must inspect 2.5 million poles every 20 years.
Initially, inspectors had to drive to an office and procure paper maps denoting which poles they needed to inspect each day. An inspector could be assigned to a pole only 50 feet away from the pole he inspected the previous day. This created lots of inefficiencies. Inspectors also filled out paper forms about the poles' status and inspections, which had to be rekeyed into PG&E's system, and risked lost, inaccurate or delayed information.
Inspection App Saves Time, Money, and Resources
Thankfully, PG&E's Mobile Asset Inspection app has replaced this antiquated procedure. SAP, a geographic information system (GIS), and Documentum enterprise applications are part of the company's solution.
Digitizing the Company's paper-dependent systems has saved the utility time and money by reducing errors, improving data quality, and driving the company's digital transformation. Now, the company tracks each pole's status in SAP and automatically knows when one needs an inspection.
Inspectors are no longer required to travel to the office to obtain paper maps and forms. Instead, the data is sent directly to the inspection app on their iPad Pros. The most direct routes to the poles are displayed on Google Maps, and daily inspections are more organized. Inspectors fill out electronic forms, which are then routed directly to SAP, which reduces errors, improves data quality, and saves time and money.
The app sends data to PG&E's advanced analytics team, which uses it to forecast which poles will fail soon. The poles are then replaced before they fail. This is an excellent step towards timely, proactive safety measures.
Is there a Fast, Easy Way to Digitize Rail Inspections and Train Inspections?
Powerhouses like PG&E may have the IT budgets to build and integrate major digital platforms to take all their inspections digital, but what about small organizations without large budgets or large rail companies that need to digitize hundreds of paper forms?
There's a data collection and analysis tool that makes it fast and affordable for these organizations to build inspection apps that digitize their rail data. They can reap the benefits of going paperless even if they lack a development team or a sophisticated ERP system.

The Alpha TransForm no-code app builder is ideal for building inspection apps and safety checklists for the railroad industry. You can digitize paper inspection forms or checklists without any development or coding experience. The apps can map to your inspection process and collect all sorts of mobile data: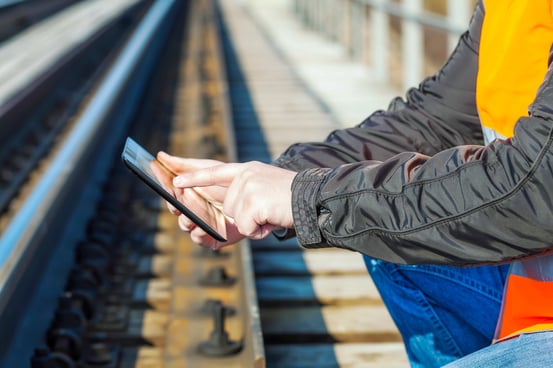 photos, with annotation
audio recordings
time/date/location stamps
electronic signatures
bar code scans and more.
The apps can do calculations to help inspectors determine if items fall within or outside safe parameters and Fail/Pass buttons speed inspections. The apps can work in very remote locations where inspectors may not have a WiFi or cell connection. And in these locations, inspectors can still access manuals, instructing videos, or more, even if when an app is offline, so inspectors will always be productive.
When safety requirements or parameters change, Alpha TransForm apps can be modified and updated in minutes, to quickly update the checklists or mobile forms. The software also provides built-in inspection templates so you can simply customize an existing form to get started.
Increasing rail safety doesn't have to take years or millions of dollars. There are reasonable ways for railroad companies to modernize their data collection and analysis methods. This will improve the accuracy and timeliness of data and create a culture of vigilance around safety to help avoid tragedies like the East Palestine derailment.