A great example of this is the way in which energy company PG&E is using an inspection app to replace old error-prone paper processes. The app has been so successful that InformationWeek awarded it an IT Excellence Award at Interop IT. According to an InformationWeek article, PG&E's Mobile Asset Inspection app is saving the utility time and money, reducing errors, improving data quality, and leading the way to the company's digital transformation.
PG&E needs to inspect 2.5 million poles every 20 years, as required by federal law. The company tracks each pole's status in SAP, so that it knows when every pole must be inspected.
In the past, inspectors had to drive to an office and get paper maps showing them which poles needed to be inspected each day. That was extremely ineffective, because, in the words of the article, "the next day, the inspector might be assigned to a pole that was as little as 50 feet away from a pole he inspected the previous day."
In addition, they filled out forms about the poles' status and their inspections of them on paper, which then had to be input into PG&E's system.
All that has changed with PG&E's Mobile Asset Inspection app, which is connected to SAP, a graphical information system (GIS), and Documentum enterprise applications.
Now, inspectors no longer drive to the office to get paper maps and forms. Instead, the information is sent directly to the inspection app on their iPad Pros. Google Maps show best routes to the poles, and daily inspections are grouped more efficiently. Inspectors fill out electronic forms, which flow directly into SAP, reducing errors, improving data quality, and saving time and morey.
Beyond improving efficiency, the app provides data that is being used by PG&E's advanced analytics team to predict which poles are likely to fail soon. Those poles are then replaced before they fail.
Tying inspection and punch list apps to intelligent systems like this is the wave of the future, according to Jason Wong, a research director at Gartner. He told Computerworld, "Field service and sales continue to see a majority of the investment [for mobile apps] as well because of new capabilities that are still emerging — things like augmented reality, integrating list sensors and IoT, using voice and voice control. That's all new stuff that needs to be incorporated into apps."
Real-Time Data Collection and Information Sharing
A great example of mobile inspection apps exist in lean manufacturing. 5S audits involve inspecting workplaces for organization and safety. When these once paper forms become 5S Audit apps that are used daily, more detailed information - including photos and time/date stamps - can be collected quickly and easily and shared around the organization. The result is continuous improvement and higher levels of productivity, safety and reduced waste.
In fact, manufacturing companies are using quality management software to digitize quality assurance and quality control inspections.
Free Software to Build Inspection Apps
- pre-built app templates you can customize




- powerful analytics engine with dashboards you can customize




- built-in offline operation, including the ability to access documents, videos, and drawings when there is no signal


- a programming language for adding advanced capabilities and full customization
- a bi-directional API to tightly integrate the apps with existing systems, databases and workflows


- scale-able, secure and reliable cloud deployment.




Inspection App Templates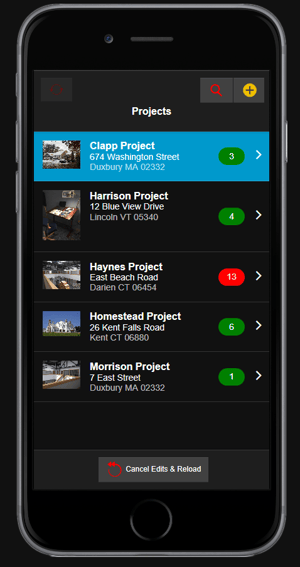 In addition, Alpha Software has built the Punch List App --a property inspection app -- an inspection template optimized for mobile phones, which most construction workers already carry in their pocket every day. There's also a Home Inspection App for building inspectors and home inspectors. The company also offers a safety app called the Toolbox Talk App to help construction foreman encourage safety anywhere at any time. The Company also has free sample apps for OSHA safety inspections, inventory, work orders and more.