As Robert Sheldon points out in his blog post, "How to avoid wasting time in a mobile app development project," the mobile development process can be an overlong one, filled with delays, time-wasting, too much back-and-forth, and unnecessary iterations and work. He offers excellent advice on how to stop wasting time, including choosing the right development environment, improving coding practices and more.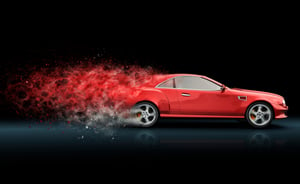 At Alpha Software, we spend a great deal of time helping companies write top-quality mobile apps quickly and efficiently. We intimately know the problems you face. So I reached out to Alpha Software CEO Richard Rabins for tips on how to speed up the mobile app development process.
A central part of not wasting time and making the development process run more smoothly, he says, "is spending the time upfront to define the scope of the project and the requirements in detail. This is key, because when business units think they have described the requirement clearly, but developers walk away from meetings with a different understanding, you have a perfect recipe for wasting time. It leads to far too much re-work."
Another vital way to speed up mobile app development, he says, "is to consider using a no code platform. The one caveat is to be sure to pick a no code platform that is powerful and that does not run the risk of running out of power before the job is done."
How can you make sure to choose one with enough power? A great way is to scope out your app and see whether the platform will do the job for you.
Rabins gives a typical example of the kinds of things a powerful no code platform needs to be able to do. Imagine you're building mobile data capture/dispatch applications and you want to choose the right platform either for IT or the business unit that wants to build the app themselves. Here are the kinds of things the things a no code platform should be able to handle:
You have workers servicing boilers and you want them to send SMS's or emails to home office.
You need to alert the appropriate team about danger conditions, determined by information collected in one or more fields.
You have field workers operating in a "no signal" location, repairing equipment that is identified by QR codes. To be able to do their jobs effectively, your field people need to be able to scan the code, look up the type of equipment they need to repair and then be able to display repair instructions or videos for that piece of equipment.
You want to be able to create dynamic dispatch applications where customer information and history is retrieved from a system of record.
You want the data capture form/app to adjust or vary the questions on the fly based on any kind of calculation or validation performed on previous fields.
You want to be able to use a web service to check a VIN number on a car against a database of stolen cars and initiate a workflow based on the result.
You want to record sounds, take an unlimited number of pictures and annotate them and also be able to use "voice to text" for taking notes in the app.
You want to make your workers more efficient by taking advantage of filtered or cascading pick lists.
You want to display each record collected in any layout or summarize the data collected in a management report.

It's a long list, we know. Most no code platforms won't be able to do all that, or even most of it. But Alpha TransForm technology will do all that and more. It lets existing staff build business apps much more quickly and effectively and enables savvy business domain experts and IT departments to work together to digitize business processes and deliver tangible business impact. TransForm also simultaneously enables IT to control data integration with systems of record, and data security compliance.