If you want to equip your field workers with the right kinds of footwear to do a job in harsh conditions - what kind of footwear would you choose?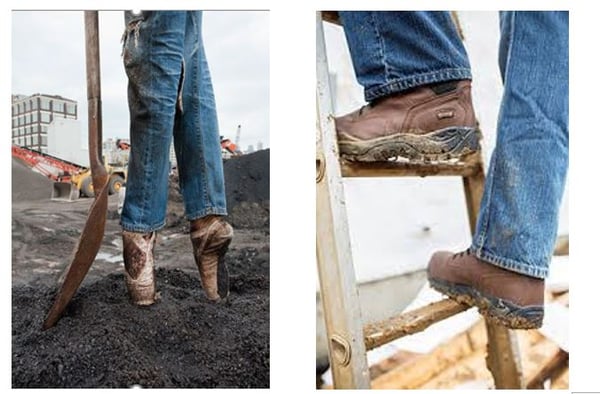 The answer is pretty clear.
Well the same thing goes for selecting a platform that is designed to enable your line of business workers to
rapidly (20 minutes-a few hours, depending on complexity,)build robust "industrial strength" mobile apps that are able to
meet demanding field work situations.
Most companies understand that if they have field workers it is now essential to equip them
with highly functional mobile apps that can work with no signal
This however is easier said than done!
The massive skill shortage of mobile developers is acute and there are no signs it will resolve itself anytime soon. In fact, Gartner, is now forecasting that by 2020, 70% of enterprise mobile apps will have to be built without IT involvement.
Realistically then, that means these apps will need to be built by employees of business units. The most likely response to this situation, is to turn to the no-code only mobile app development and mobile forms products because a broad base of line of business people can build apps/forms with these products. But unfortunately, there is still a serious problem. Real-world situations tend to have more demanding requirements that exceed the capabilities of these products, and these no-code only products are very likely to "run out of steam" before the job has been completed.
So here is the situation, which is pretty bleak. Professional mobile developers are hard to find and very expensive if you can find them, while the products aimed at enabling line business people to build the apps that they need are under-powered in terms of meeting most of the requirements common in enterprise mobile apps.
So, is there a solution? Well it turns out there is good news.
Most business units have some moderately technical people - "power users" or "business analysts" who can, in fact use a straight forward language to get real-world things done (these are the same folks who can use VBA in MS Excel.)
It would then be great, if there was a mobile app development and deployment platform that enabled "non-technical" line of business people to build an impressive set of offline-capable enterprise mobile apps themselves as well as allowing
"power users" to go further and build extremely feature-rich mobile apps that take care of most enterprise mobile app requirements.
Until now, no such platform existed, but Alpha Software's recently released Alpha TransForm breaks away from the pack of no-code only mobile form products and makes two core things possible.
Enabling non-technical line of business people to build many of the offline mobile apps they need themselves and ..
Enabling "power users" and business analysts to go further and satisfy important, yet very common requirements in mobile apps such as the ability to:
Scan bar codes and lookup the type of equipment, associated with that code, against data stored on an on-device SQL lite database (when operating offline)
Play back video and audio files or display PDF files when offline from data previously downloaded to the on-device database (when signal was available)
Perform validations using the on-device database and execute complex multi-field calculations
Take advantage of web services (e.g. check a car VIN # against a stolen car database maintained by the government)
Initiate SMS's or emails based on calculations or transformations performed on the data collected in the field
Create dynamic and filtered pick-lists for faster and more accurate data input
Easily tie into any corporate system (E.g. SAP, Salesforce, Oracle, MS Dynamics or even MS office.)
Record GPS, time and elapsed time with stopwatch and countdown controls and based on this information initiate workflows or notifications
This is all made possible because of 3 unique aspects of TransForm
TransForm has an easy yet powerful language for truly customizing mobile apps
TransForm has a manifest based system for loading and storing all kinds of data (databases, videos, diagrams, audio, pdf files, pictures) in the on-device SQL lite database that exits on tablets and phones
TransForm has an extremely rich API
---


Click here to Try Alpha Transform for Free!
Access the free trial here and start building apps in minutes.

---