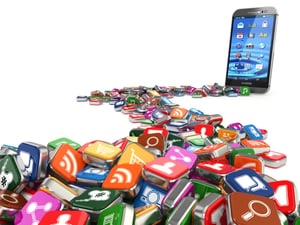 The coming year is poised to be a breakout year for mobile app development, particularly in mobile enterprise software, as businesses rush to take advantage of mobile on all platforms. That's just one of IDC's predictions for 2015 in mobile, as outlined in its Webcast IDC FutureScape: Worldwide Mobile Enterprise Applications and Solutions 2015 Predictions. Following are some of the webcast's high points.

Probably the biggest news is the sheer volume of mobile apps that IDC expects to flood enterprises between now and 2016 — a fourfold increase. John Jackson, Program Vice President for Mobility Research at IDC, explains, "The number of enterprise applications optimized for mobility will quadruple by 2016, driven both by competitive necessity and rapidly evolving technologies that support faster and more secure enterprise 'appification'. The benefits from efficiencies and business innovation on the back of this app explosion will transform industries and markets." Enterprise mobility stands to transform business and increase productivity.

Surprisingly, IDC says that as of today, 60% of enterprises with more than 1,000 employees say that they have mobilized three or fewer apps. With the expected increase in demand for enterprise apps, businesses will be challenged in solving their custom mobile app needs.

Other Mobile App Predictions
IDC's other predictions round out the scope of changes related to mobile in the coming years — and the challenges as well. One has to do with money: At least 25% of IT's software budget will be devoted to developing, deploying, and managing mobile apps by 2017. And 35% of all large enterprises will use mobile application development platforms to develop and deploy apps in 2015.

That's not to say that all will be rosy. IDC predicts that problems with linking mobile platforms to existing corporate databases will force 45% of mobile enterprise app initiatives to be delayed or to exceed their budgets in 2015.

As to why mobile apps will become so popular in 2015, IDC's prediction may surprise you: It's not primarily to improve productivity and efficiency. Instead, they'll be developed out of competitive necessity.

IDC also had these other predictions:


Between 30% and 40% of businesses deploying more than five mobile applications in 2015 will gain substantial business agility benefits by establishing an API tier in their enterprise IT architecture.
By 2017, all the line of business (LOB) apps in customer-facing roles and 75% of LOB apps in internally-facing roles will be built for mobile-first consumption.
By the end of 2015, only 15% of large enterprises will have adequate mobile security governance for process and policy.
Meet Mobile Demands with Alpha Anywhere
Alpha Anywhere is a rapid mobile application development platform that enables you to quickly build and deploy custom mobile applications. Alpha Anywhere can help you meet your needs for iOS and Android mobile apps. Alpha's low-code model makes it easy for you to build apps without the experience of a seasoned app developer.