If you think about most business apps, reporting is a very common requirement because of the analytical power of well thought out reports.
Alpha Anywhere's powerful reporting engine allows you to pull information from a variety of sources and produce robust business reports, complete with charts, graphs, and more. Built-in charting features make it easy to produce enterprise-quality analytical reports. If you are new to Alpha Anywhere or currently considering it, you can check out Alpha Anywhere's extensive and powerful reporting capabilities by going to the videos page at http://videos.alphasoftware.com . When you get there, scroll down to the bottom of the page and then click on the orange button labeled "go to the documentation library" and then type in the word "report" You will see a series of videos (the first page of videos is shown below.) You will soon get a good idea regarding the flexibility and power of the Alpha Anywhere Report Writer for adding reporting to your web and mobile business applications. As a side note, it is worth noting that if you go to the video page from a mobile device, the user interface will be the appropriate interface for a mobile device (vs a web interface.) This is made possible because of the responsive app design capabilities of Alpha Anywhere (If you want to check out other features, such as chart, map etc just type that word into the search box of the videos page.)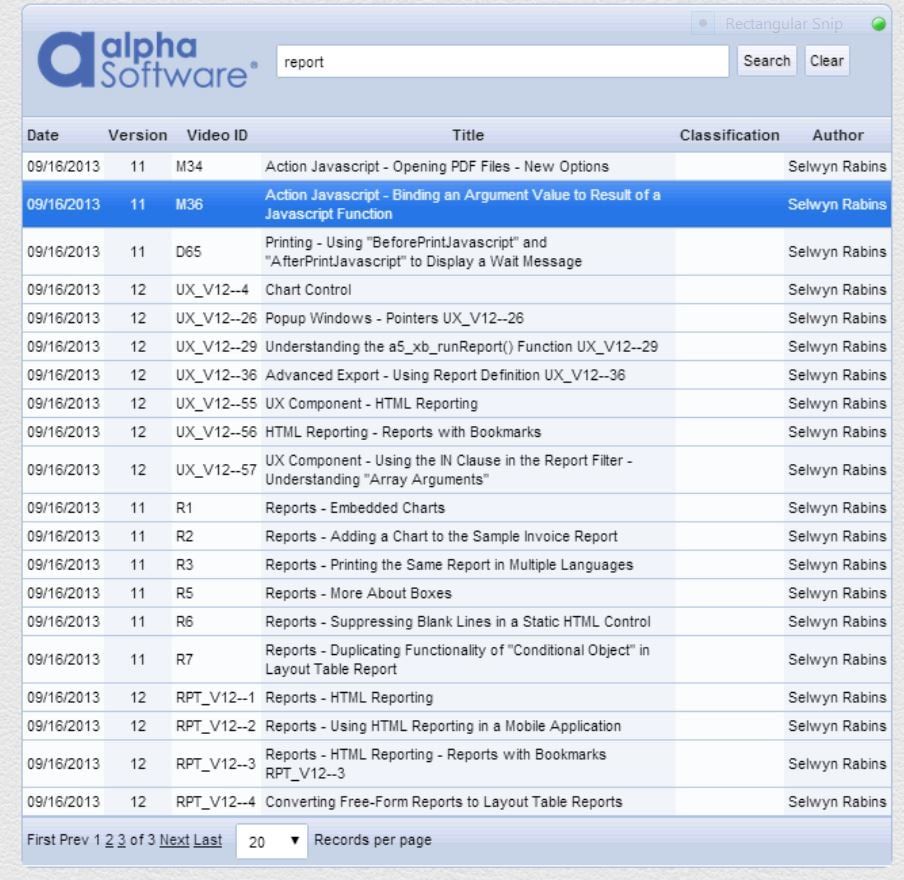 For more info on Alpha Anywhere and why it is gaining so many new converts click this link
Comment:
James Moore - Developer of Custom Mobile Business Software for business. For example, the remote service industry! I know for a lot of software developers when it gets to the reports stage, it's like... oh man. I've thought that way for years and then came across the incredible report writer in Alpha Anywhere. It is excellent. I have written reports in R&R Report Writer (showing my age), Crystal Reports (several years), List & Label (another great report writer that allows you to distribute the designer royalty free, something I couldn't get Crystal Reports to do), the FoxPro report writer and then SSRS. I was so impressed with Alpha Anywhere's report writer I just had to chime in. It has a ton of features and is a powerful report writer.