The healthcare industry is notorious for having problems sharing patient information, commonly found in electronic health records (EHR), even though it's clear that doing so could lead to better patient care and improve the industry's productivity. That's not the fault of the industry as much as it is the result of how fragmented healthcare is in the United States, with an almost incomprehensibly complex system of business relationships, payment mechanisms, regulatory rules and incompatible technical standards.
But there's good news. New HHS rules and technical standards, such as HL7 FHIR, will make it easier for health delivery organizations (HDOs) to share patient information. And that in turn will open up a whole new world for patient engagement mobile apps and consumer-mediate health information exchange. In this blog, I'll let you know how you can take advantage of that.
First, a bit of background. Back in 2016, the 21st Century Cures Act (commonly called the "Cures Act") was signed into law and defined how the industry can more easily share health records and information. But change towards real sharing of records and information has been slow to come.
Because so little progress has been made, those who make mobile apps have found it extremely difficult to tap into the health system and build apps for consumers and businesses. A significant problem has been that potential mobile app makers have been required to understand the HL7 standard for sharing and using health information — and the HL7 messaging and document standards are complex and difficult to implement.
An API-based standard for exchanging patient information called Fast Healthcare Interoperability Resources (FHIR) was developed was developed to make it easier for use HL7. But FHIR has also been slow to get off the ground.
But now that is changing. The Office of the National Coordinator for Health Information Technology (ONC) issued a set of rules that will promote the increased use of FHIR and other ways of sharing health information. And in 2020, a proposed rule will go into effect that will require all EHR vendors to make FHIR resources available to any legitimate third-party app — and many of those apps will mainly be mobile apps. That will open up the market for mobile app developers, and make it far easier for them to build apps that consumers and business want and need.
A Gartner report, "ONC NPRM Envisions Open and Equitable Health Information Exchange" published 28 June 2019 by VP Analyst Barry Runyon, offers details on all this and more. The report notes that "By 2023, 20% of all electronic health information exchange will be consumer-mediated." Runyon offers a series of recommendations for how HDO CIOs can support EHR and digital care delivery optimization. At the top of the list is to, "Promote the use of HL7 Fast Healthcare Interoperability Resources (FHIR) and SMART on FHIR capabilities available from your EHR vendor (API technology supplier) necessary to support consumer and third-party EHI access."
This news changes the game for companies looking to mobilize healthcare apps.
---
All statements in this report attributable to Gartner represent [Enter Client Name's] interpretation of data, research opinion or viewpoints published as part of a syndicated subscription service by Gartner, Inc., and have not been reviewed by Gartner. Each Gartner publication speaks as of its original publication date (and not as of the date of this [presentation/report]). The opinions expressed in Gartner publications are not representations of fact and are subject to change without notice.
---

Choosing the Right Platform for Developing Healthcare Mobile Apps
Companies that want to tap into the EHR market need to think not just of how to access and share healthcare information, but how to choose a flexible mobile app development platform for doing it.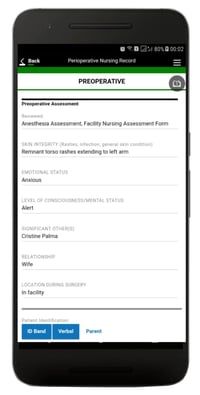 Alpha Software has been an innovator in the field and has been chosen by multiple companies looking to write mobile patient engagement mobile apps:
Alpha TransForm is an ideal starting point for those looking to build healthcare-related mobile apps. With Alpha TransForm, users can craft online or offline healthcare mobile apps in minutes that utilize the latest mobile features (camera, GPS, etc.) and APIs like FHIR that speed data capture on mobile devices. Should additional functionality be required, Alpha Anywhere can take those apps further, by easily access and integrate with any database or web service and exploiting built-in role-based security or more advanced offline functionality.
Learn more about Alpha TransForm, free sample apps and a free 30-day trial.
Further reading: How To Solve Healthcare's Biggest Crisis — A Shortage Of Care Workers