A new survey confirms what most of us know: Mobile devices have become mainstream work devices, used constantly throughout the day. What's surprising, though, is how often people use them at work -- and some of the complaints people have about then.

A recent survey by work management platform Wrike, 2016 Mobile Productivity Report, asked more than 850 professionals from many different departments in companies, including marketing, IT, finance, and human resources, how they used their mobile devices.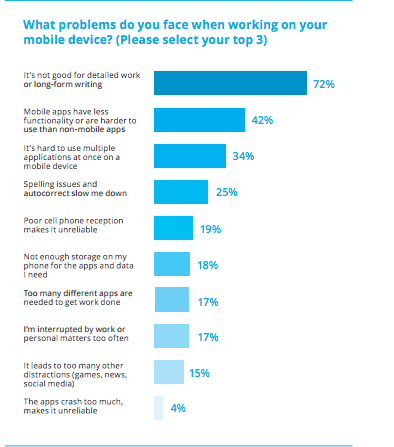 Here are some key findings:


Forty-three percent of respondents said that mobile devices are critical for doing their jobs.
Approximately 44% of people use two mobile devices for work. Ten percent said they use three or more devices while working.
Forty-four percent of people work on their mobile devices more than 20 times a day for tasks such as checking email and taking notes.
Almost 50% of respondents work while they are on the go between one and two hours every day.
Almost two-thirds of people use up to four apps for work on their mobile devices.
More than one-third of respondents use five or more mobile apps for work.
Thirty percent of respondents say having a mobile device hurts their work-life balance, while 37% say their mobile device improves it.
Issues with Working with Mobile Devices

Even though people see mobile devices as being indispensable to their working life, they do have complaints about them. Some 72% of respondents say the devices are not good for detailed work or long-form writing.

The second most-cited complaint, by 42% of respondents, is that mobile apps have less functionality or are harder to use than non-mobile apps. Thirty-four percent complained that it's difficult to use multiple mobile applications simultaneously. And 25% report that spelling issues and auto-correct slow down their work.

More details and to download the report.

Read how Alpha Software is rethinking mobile apps to address many of the concerns raised by these respondents or learn about our mobile-optimized forms.