At Alpha Software, we are constantly improving our product. This includes product documentation. With the release of Alpha Anywhere 4, we launched our new documentation system. The new system replaces the Alpha Anywhere wiki. Searching has been vastly improved. The new documentation system employs elasticsearch: a lightning-fast search engineered by Elastic and tailored to our needs. It is significantly easier to find what you're looking for using the documentation search tool located at the top of every page. [caption id="attachment_14383" align="aligncenter" width="300"]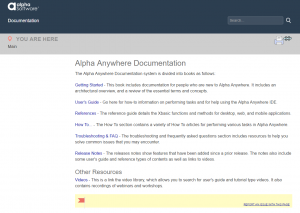 Alpha Anywhere's new Documentation System[/caption]
Reading and Sharing Improvements
The Alpha Anywhere documentation system includes several features that make reading and sharing documentation easier:

Mobile Support - The responsive layout of our documentation system can adapt to any form factor, making it easy to read documentation anywhere on any device.

Print - Use the Print icon at the top of any page to open a print-friendly version of the page. This allows you to print the document or save it as a PDF for later use.

"Flatten All" for API Documentation - In our Reference documentation, you will find a "Flatten All" feature, which allows you to combine all the methods and functions for an API into a single page with a click of a button. Combine with the Print feature, you create complete listings of classes, functions, and objects available in Alpha Anywhere's API.

Sharable Links - Documents can move and URLs can change. Get a sharable link that will always link back to an article, regardless of where it moves, using the "Sharable Link" option available on every page.

We also made it easier to report issues with documentation. At the bottom of every page in the documentation system, you will find a link for reporting a problem with a page. Reports are sent to our entire documentation team. If you can't find an article on a feature or come across a page with a missing code example, let us know! We'll address your issue right away. In addition to the great features the documentation system has to offer, we are also adding fresh content on a daily basis. We have been working on creating new Getting Started Tutorials, How To Articles, and a growing Troubleshooting & FAQ section.
Where Can I Find it?
Visit www.alphasoftware.com/documentation and start getting results today. Or, click "Open Documentation..." in the Help menu in Alpha Anywhere.
What About the old Wiki Links?
We recognize that tens of thousands of posts on the Alpha Anywhere User's Forum contain links to the old wiki. We don't want those great posts created by our users to go to waste! We have put a system in place that still makes those old wiki links useful. While it may not be a perfect mapping, the documentation system will try its best to point you in the right direction. Correction: in an earlier version of this article, we incorrectly credited authors of elasticsearch. Visit https://www.elastic.co/ to learn more about elasticsearch.