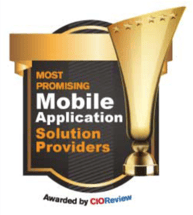 This week, CIOReview named Alpha Software one of the 20 top mobile application solution providers "at the top of their game."
The editor identified 20 companies that they believed are transforming the business landscape with innovative technological capabilities.
The article explains: "By programming the mobile applications according to the individual needs and requirements of the users, developers are making life more comfortable and productive for consumers."
The article goes on to say mobile apps are "a fail-proof way for businesses to enhance their reach.
This recognition is further evidence of the company's ground-breaking technology and customer satisfaction. Read further mobile app development reviews and awards for Alpha Software.
The award comes at a time when Alpha Software just announced a free version of its product, Alpha Anywhere Community Edition. This announcement makes low-code app development affordable for everyone. You can build all the apps you need, without a credit card or without a time limit or limit on number of apps you can build. When you've tested your app and are ready to publish it, you can deploy it to Alpha Cloud for as little as $99/month.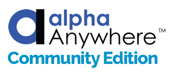 The announcement makes Alpha Anywhere the first robust low-code app development platform to introduce a completely free version without a time limit.
Download Alpha Anywhere Community Edition and begin building apps for free today.