Cross platform development can provide customers with outstanding digital experiences when they engage with your company. This can have a dramatically improve customer satisfaction scores and longterm sales revenue.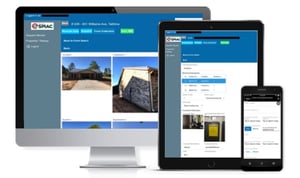 It's the perennial problem many businesses face: How to improve customer satisfaction while reducing costs. For companies that use mobile apps, the solution is simple. Use cross platform app development tools.
What is cross platform development?
Cross-platform development creates a single "'app" that easily runs on multiple mobile operating systems, including iOS and Android devices, of any size (tablet or smartphone).
With cross platform app development, businesses can create mobile applications using a single codebase. They don't have to create a native app for each mobile operating system, such as for Android and iOS. Cross platform apps also provide great experiences on any size smartphone or tablet and often have common interface components for consistency..
The Gartner report, "Technology Insight for Multiexperience Development Platforms" thinks cross platform app development is so important that it "should serve as one of the cornerstones to support a future of applications strategy."
According to the BusinessofApps, cross platform app development tools market reached $7.5 billion in 2018, and the amount of cross platform mobile development is predicted to rise each year.
Why Use Cross Platform Development Software?
A related article "11 Advantages of Cross-Platform App Development" goes into more detail about the benefits of building apps using cross platform software.
With this type of software, the apps you build for each device have a common user interface. This leads to more satisfied customers because they have a consistent intuitive experience, the article says.
The author explains: "For consumer satisfaction, the solution of a single app that can run on multiple devices and has consistent UI components is a huge advantage."
Cross platform development dramatically lowers costs as well, the article notes. Businesses don't have to hire separate teams to develop an app for each platform. Over the long-term, companies don't have to support and do updates for multiple operating systems and screen sizes.. Instead, the article explains, "With the right set of cross-platform tools in hand, they can have one team developing applications for all platforms."
Using cross platform development, businesses can build apps for multiple platforms simultaneously and publish them to multiple app stores at the same time. Because of that, "products have a higher reach and greater chance of an increase in popularity."
With cross platform development, the article goes on to say, you can minimize upfront app development costs: "You cannot earn a cent from an app before it is released. Reducing the upfront cost reduces any risks taken. With cross-platform app development, it is much easier and faster to get an initial version ready and to see how it is perceived on the market."
The cross platform software reduces the time it takes developers to write apps, and lead to fewer errors.
In addition, the article says, "To be more efficient and increase productivity, it's a great advantage that you can reuse the code while developing cross-platform apps. During the development phase, there are a lot of recurring, repetitive tasks and codes that can be avoided."
You can also develop prototypes more quickly. And you'll be able to reduce maintenance time because you only need to deal with one codebase.
Build Cross Platform Apps for Free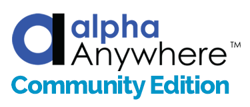 Alpha Anywhere Community Edition allows you to build cross platform apps for free. These highly secure applications run like native applications on mobile devices. With built-in mobile app capabilities, developers with or without mobile development experience can rapidly create robust mobile apps in significantly reduced time than with competing methods using a single code base. Once the app is built and tested, developers can then publish the app to the cloud for as low as $99 per month. Alpha Anywhere Community Edition is one of the most feature-rich, affordable cross platform development software solutions available.