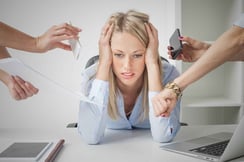 As demand for mobile apps rises, so does the cost that mobile developers can demand for their services - making it hard for companies to deliver.


Two new reports show that enterprises are hungrier than ever for mobile apps. But as demand for mobile apps rises, so does the cost that mobile developers can demand for their services, making it difficult for companies to meet the mobile demand.

A report from Fliplet finds that "Businesses are creating more apps than ever before" — 10.6 per company in 2016, a big jump over the 4.7 in 2015 and the 1.7 in 2014. There's good reason for that, the report goes on to say. It says that businesses get an additional 240 hours of work from each employee who uses enterprise mobile apps. It adds that 71% of employees spend more than two hours a week using mobile devices to access company information. The report also quotes an Adobe report that found "61 percent of organizations believe that if a company hasn't deployed any enterprise mobile apps yet they're at a competitive disadvantage."

A report from the contract agency ContractIQ in its Annual Mobile App Development Report 2017 echoes Fliplet's findings. It surveyed app developers and found "For the third year in a row, enterprise demand for custom app development has increased, from 23 percent in 2014 to 29 percent in 2015 to 32 percent in 2016."

The ContractIQ report had a variety of other findings as well, largely about the direction that enterprises are taking in their mobile efforts. In 2016, it says, 60% of businesses built mobile apps that they hoped would generate revenue, double the 30% in 2015 that had that goal. In general, companies believe they are on the right track with mobile — 44% say they understand mobile development and needs, with 25.7% saying they need guidance.

Has the mobile app wave peaked?

70% of Developers in the ContractIQ report say custom mobile app development will continue to grow.
App developers clearly believe that the mobile app wave still hasn't peaked, with 70% in the ContractIQ report saying custom mobile app development will continue to grow, and only 8% saying the peak has already passed. Twenty percent say they are unsure.

There's been some speculation that bots will replace the need for mobile apps. But mobile developers clearly don't believe that's the case, according to the ContractIQ report, with 78.3% saying chatbots will never be bigger than mobile apps. Some 12.2% say bots will be bigger than mobile apps, and 2.5% say they'll be mobile app killers.

As for the cost of hiring app developers, the ContractIQ report found it's still pricy. Median hourly rates for iOS and Android developers in the U.S. and Canada are $95 per hour, with a high of $225 per hour. Developers believe that price will stay the same or rise, with 55.7% saying the rates will stay the same, and 29.6% saying the rates will rise.

If you're worried about the cost of hiring outside developers or in-house staff to write mobile apps, Alpha Anywhere might be your solution. It allows non-technical staff, domain experts, and line-of-business staff to write mobile apps, with a low-code, rapid mobile application development and deployment environment. Know More Details.

Read a news report from ADTMag about the Fliplet and ContractIQ surveys.
Start Building the Apps You Need with Powerful
App Makers
Read how Alpha Anywhere is helping companies combat the shortage of developers by making developers more productive while empowering citizen developers to build mobile apps. You can download Alpha Anywhere Community Edition and build low-code apps for free.
Prefer not to code at all? Our no-code app builder might be the right solution for you.