As work shifts to remote models, more companies are moving to low-code software development to meet demand for more business apps that power remote work. In fact, TechRepublic wrote earlier this week that "COVID-19 triggering a massive shift in adoption of low-code platforms." As low-code products receive more attention and focus, Alpha Software continues to gain attention from editorial groups.
Alpha Software in SDTimes Low-Code Buyer's Guide

This month, SD Times, the leading monthly magazine for software and development managers, DevOps teams, Test & QA professionals, and CIOs, published "A Guide to Low-Code Tools." The Guide features Alpha Software as offering "the only unified mobile and web development and deployment platform with distinct 'no-code' and 'low-code' modes." Editors continued, "The platform materially accelerates digital transformation by allowing line of business professionals to work in parallel with IT developers."
Alpha Anywhere is Named a "Best App Builder Software" by GoodFirms

To help business developers and users select the perfect app building software that meets their budget and requirements, GoodFirms released a list of Top App Development Software. Editors featured Alpha Anywhere for "Best App Builder Software" based on authentic user reviews and reported: "These app building software makes it effortless for businesses to develop a quality rich and feature-packed app."
Alpha Anywhere Receives Crozdesk "Trusted Vendor" Recognition

This week, Alpha Anywhere received notification that it received the Crozdesk Trusted Vendor Badge for 2020. Crozdesk is a leading website that connects software buyers with B2B SaaS-based products. Crozdesk's Trusted Vendor badge gets awarded to vendors with high estimated market presence or market share. This is based on an estimate of your user numbers as determined by Crozdesk's AI ranking algorithm. Only about 20% of solutions ever earn this badge.
---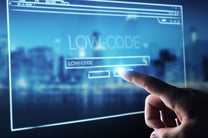 Related Article: "How Low-Code Tools Are Changing Programming and Business Strategy Forever"
We're entering a world in which the tools and expertise required to build powerful, high-level software applications are within the reach of any company, of any size. This is particularly important with companies changing their business models and seeing the majority of their employees work remotely or socially distance in the office. Low-code platforms are changing programming and business strategy because they can be used to great effect by both citizen developers and professional programmers.

---
Move to Low-Code: The Alpha Software Low-Code Platform

The Alpha Software low-code platform is ideal for companies of all sizes that want to build powerful business applications and apps. Alpha TransForm helps business users craft online or offline mobile apps in minutes that utilize the latest mobile features (camera, GPS, etc.) for fast, accurate data capture. Alpha Anywhere has the unique ability to rapidly create mobile-optimized forms and field apps that can easily access and integrate with any database or web service and can exploit built-in role-based security or robust offline functionality. The Alpha Software platform also previously won an InfoWorld Technology of the Year Award. Learn more about Alpha TransForm and take a free trial.