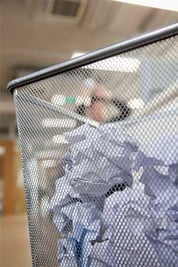 It's time for organizations to create the paperless office.
Organizations are re-thinking the use of paper money amid virus fears and the social distancing that is now required on a daily basis. As organizations reopen, they'll be required to limit face-to-face interactions, eliminate banks of telephone workers, redesign factory floor layouts, and encourage employees to work remotely. Direct contact with customers and partners will also need to decrease. As a result, it's likely that paper forms will become the next casualty of COVID-19.
Virus transmission risk reduction becomes a new and important reason to mobilize paper forms, in addition to traditional arguments for the paperless office that center on cost savings, efficiency, faster response, error reduction, and employee productivity.
To meet health guidelines, companies will need to digitize their paper forms before life can return to normal.
As businesses slowly reopen as COVID-19 curves flatten, our routines will be changed in countless ways. One of them will certainly be the elimination of paper forms. With evidence that coronavirus can live for a period of time on paper surfaces, it's likely that the habit of using and passing around paper forms will become a thing of the past. Companies need to change their mindset now and begin designing mobile forms, or they'll be at a disadvantage as businesses start to reopen. As one major analyst recently told me, "COVID-19 is a nail in the coffin for paper-based forms."
---
"COVID-19 is a nail in the coffin for paper-based forms."
---
Recently CBS MoneyWatch reported that Dr. Sanjay Maggirwar, chair of the George Washington University School of Medicine's department of microbiology, immunology, and tropical medicine, said that researchers believe coronaviruses "can stay on surfaces in their fully active states for at least 10 days. That includes cash and all kinds of other surfaces that people normally touch.'"
Businesses and governments are already taking heed. News outlets began reporting that China was disinfecting its paper money and businesses around the world were shunning the use of paper bills.
Businesses, schools, and hospitals will not only see paper bills eliminated as a result of the pandemic, but paper forms are also predicted to begin disappearing. Businesses will likely be leery of having their entire workforce in one location, to ensure that a future pandemic can't infect everyone simultaneously.
Darren Comber, chief executive of architects Scott Brownrigg, asks that after the coronavirus pandemic, "Are companies really going to want to put their entire team in one place?" Banks of telephone centers will need to go away, social distancing will be in effect for a long time and remote work will become a basic fact of working life. Multiple work locations and social distancing mean paper forms will no longer be viable because there will be less face-to-face interaction, and fewer people working in the same physical space.
---
Paper forms will not be viable, because face-to-face interaction and joint work spaces will be significantly limited.
---
A coalition of tech groups recently sent a letter to Congress saying that the next Congressional act to offer aid for the coronavirus needs to include funding to upgrade digital infrastructure, including moving to digital forms. The letter says, in part, "Outdated government IT systems and processes already hinder some federal and state agencies' ability to deliver aid to new applicants for small business loans and unemployment insurance. The COVID-19 pandemic also exposes the need to redouble efforts to digitize federal forms and reduce reliance on hand-processing paperwork for high priority response and relief efforts."
---
Innovative solutions have emerged to digitize forms rapidly and effectively for both enterprises and small businesses.
---
Companies must quickly digitize their paper forms, but amid this unprecedented pandemic full of uncertainty, companies don't have the appetite or ability to purchase expensive software, hire new developers, or invest in retraining employees. While new data recently reported this week on DZone indicates that developers are becoming more productive during the pandemic; digitizing the hundreds of forms a business uses in advance of reopening safely is daunting for any developer. Luckily, innovative solutions have emerged to solve the problem quickly and effectively for enterprises straight down to small businesses.
How do you quickly go paperless?
Even before the pandemic, paper forms were money-sapping productivity killers. They cost thousands of dollars a year in storage, real estate, and related costs — not to mention the many more thousands per employee thanks to lost productivity. A recent Repsly report estimates that storage space and filing cabinets required for the forms of field reps come to $2,165. The paper points to a report by the SBE Council that found each field rep spends $4,147 per year on administrative work.

Mobile forms can save companies a tremendous amount of time and money on data entry and paper filing during this trying time. Mobile forms software can also help businesses operate more efficiently and identify new revenue streams. One particularly robust and affordable solution, Alpha TransForm (free trial and template forms available), is ideal for the task. Alpha TransForm allows both developers and non-developers to digitize mobile forms of ANY COMPLEXITY for under 1 hour of work per form page.
Coding is optional, so virtually anyone can turn a paper form into an offline-capable mobile app with the latest mobile phone features (camera, GPS, time/date stamping, signatures, etc.). Power users can use the built-in programming language and on-device database storage to add more advanced capabilities, such as workflow triggering or pre-loading forms data.
With affordable pricing and flexible licensing models, Alpha TransForm lets companies build as many industrial-strength offline-capable forms as they need to take their organization paperless. Companies have Alpha TransForm to digitize a range of data collection forms, such as order intake forms, inspection forms, quality maintenance forms on shop floors, construction punch lists, safety forms, patient data collection/record-keeping forms, government forms, and more.
Whichever paperless solution companies decide to work with, the time to embrace no-code/low-code software that produces mobile forms is NOW. By moving today to digitize forms, organizations will be ahead of the game and be able to reopen in a safer and responsible way as early as possible.
Get employees screened for COVID-19 and back to work with the AlphaMED Workplace Wellness App.