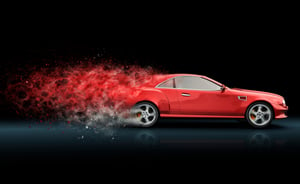 There has been a great deal written about the best way to digitally transform a company, usually from a very high, strategic level. But there's plenty of evidence that enterprises can take a simple step to dramatically increase the speed of digital transformation — embrace the use of low-code/no-code development tools for citizen developers and IT.
So writes Michael Beckley, a member of the Forbes Technology Council, in his Forbes blog post, "What The Rise Of Low-Code Means For CIOs." His argument is a simple one: "Industries facing digital disruption can thrive by using low-code to expedite technological innovation while slashing application costs at the same time -- upending the tyranny of spending the majority of their IT budgets on ongoing maintenance of legacy software."
He notes that enterprises have long turned to custom-coding for their largest and most expensive projects, because in that past that was the only way to get the most powerful applications written. But the advent of low-code tools changes that. He writes, "Low-code platforms present a simple way to rapidly ship and evolve powerful enterprise applications…without custom code." He goes on to say, "Low-code allows applications to be configured, not custom-coded, delivering tailor-made, powerful software without the cost, risk and delays of traditional development."
Enterprises have only a certain amount of developer resources, he says. And typically, many of those resources are devoted to maintaining existing, unwieldy code. That leaves little time for developers to tackle the innovative projects that will digitally transform companies. CIOs need to find a way to unleash developers on those important projects. Beckley says that low-code platforms are the solution: "Low-code addresses this issue, enabling developers to delegate work to citizen developers and business analysts, all while retaining enterprise governance and controls. What's more, a low-code strategy can provide both IT and business teams with an outlet to easily translate concepts into software applications quickly, with minimal technical debt."
He warns, though, that not all low-code platforms are created equal, and that enterprises need to choose one that is "highly efficient in unifying people, process and data. If the platform doesn't provide these things, it's unlikely to deliver the digital transformation promised."
How Can Alpha Software Accelerate Digital Transformation?
We agree that choosing the right low-code/no-code development platform is the best way to accelerate digital transformation. Vital is that enterprises find an application development and deployment framework that is ideal for both IT and business users. That's why we've designed Alpha Anywhere and its Alpha TransForm technology to solve business issues, deliver value, and create operational efficiencies and market advantage. Through our work with enterprise customers, Alpha Software understands that successful digitally enabled innovation requires the involvement of the whole organization -- not just IT. Experienced IT developers or line of business users (citizen developers), and innovation teams can only succeed at transforming the business if the apps they're using are built to serve the unique needs of the team using them – built with an understanding of how they work and what they need to accomplish.
Alpha Anywhere and Alpha TransForm combine to enable savvy business domain experts and IT departments to work together to quickly and effectively digitize business processes and deliver tangible business impact. It lets line-of-business experts build mobile apps using their insight regarding workflow needs and efficiencies, while simultaneously enabling IT to control data integration with systems of record, and data security compliance.
Learn how to harness the power of the smartphone for your organization.
Further reading: