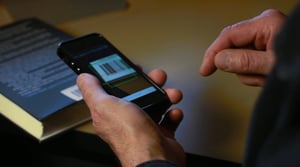 Companies spend a great deal of time and money figuring out the most effective route to business and digital transformation. But sometimes they overlook the most powerful tool available, one that's right in the palm of their employees' hands — their smartphones.
That's one of the key messages in the Forbes blog post, "What Does A Mobile-First Digital Transformation Strategy Look Like?" Author of the post, Daniel Newman, writes, "To be mobile-first, businesses must begin their digital transformation focused on creating a user experience that is just as effective on mobile devices. The idea is this: if we can create a user experience that converts using a mobile device, the rest of the devices will follow."
Mobile phones are key to business transformation because of their ubiquity in the workforce. Newman notes: "Ninety percent of millennials state their cell phone never leaves their side and out of the seven billion people on this planet, six billion of them have mobile phones. Businesses can now operate solely on mobile devices with new technologies making connection and collaboration possible."
Smartphones can be the fastest way for companies to ramp up their business transformation and take advantage of newest transformational technologies. Newman concludes that mobile "is an all-encompassing catalyst for applications, virtual reality, artificial intelligence and other future innovations. Mobility can be used to remove other silos within your business, bringing an end to self-limiting technology and behavior that your digital transformation should bring to an end." Deploying smartphone apps that leverage a device and intuitive user interface that most users are already familiar with, virtually eliminates the training and technical support costs associated with specialized mobile device usage.
What's the Best Tool for Harnessing the Power of Smartphones?
Of course, it's one thing to know that smartphones have the power to transform business processes, workflows and companies, and another thing to build mobile apps to do it. So how can you harness the power of smartphones for your company?
One way is to use a tool like Alpha TransForm that can help companies into a productivity tool that can solve business issues, deliver value, and create operational efficiencies and market advantage. Through our work with enterprise customers, Alpha Software understands that successful digitally enabled innovation requires the involvement of the whole organization -- not just IT. Experienced IT developers or line of business users (citizen developers), and innovation teams can only succeed at transforming the business if the apps they're using are built to serve the unique needs of the team using them – built with an understanding of how they work and what they need to accomplish.

This is where Alpha Software and its new TransForm technology shines. It enables savvy business domain experts and IT departments to work together to quickly and effectively digitize business processes and deliver tangible business impact. It lets line-of-business experts build mobile apps using their insight regarding workflow needs and efficiencies, while simultaneously enabling IT to control data integration with systems of record, and data security compliance.
Check out our 90-second video about TransForm, and get more details about TransForm here.
If you would like to explore how Alpha TransForm could help your organization empower citizen developers, contact mike.gongwer@alphasoftware.com.