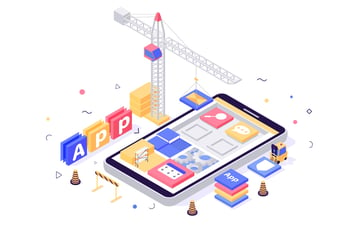 Professional services companies and consultants frequently charge their clients by the hour, and so for them, billable hours are the name of the game. So if low-code development platforms let them do their work more quickly, they might think the platforms are bad for their bottom line, because they cut the number of hours it takes to do their work.
In fact, though, low-code tools are professional services businesses' and consultants' best friend, because they help give their customers exactly what they want – the best value for the best solutions. So says Jason Bloomberg, founder and president of the digital analyst firm Intellyx, in the Silicon Angle article, "Low-code app development: a surprising boon for professional services."
His argument is simple. The value proposition for consultants and professional services firms "has always been about more than billable software development hours. For these companies, low-code only strengthens their strategic value proposition."
He points out that "In many cases, the big win for customers centers on digital transformation" – and low-code tools help developers digitally transform companies more quickly and more effectively. Bloomberg notes that companies don't want to engage with professional services organizations in digital transformation projects that take three to five years. They want to see results much more quickly, and low-code tools can help deliver that.
Over the years, customizing off-the-shelf enterprise applications for companies has been a cash cow for professional services groups, he notes. But he warns, "Today, enterprises have little appetite for such money pit projects."
Instead of customizing existing applications, he says, professional services organizations can build them from scratch using low-code tools, giving enterprises better, more customized applications at less cost.
Low-code development tools can also help professional services organizations more easily scale. It's harder than ever – and more expensive than ever – to find and hire qualified developers. In the past, without qualified developers, professional services groups haven't been able to take on new work because they didn't have the workforce to handle it.
However, low-code tools allows them to hire less-experienced developers to tackle even complex projects. He quotes Mathieu Drouin, solution architect and owner of Division 61, a boutique consultancy specializing in intelligent automation as saying, "True full stack developers — ones that master the software development stack from end to end — are rare and very hard to find. A low-code platform can be a very powerful tool for reducing technological complexity and allowing your organization to concentrate on building applications that provide real business value."
The result of all this? Low-code platforms can fatten the bottom line of professional service organizations and consultants because they allow them to deliver more value at less cost, take on new work and gain greater loyalty from their customers.
Which Is the Best Low-Code Platform for Professional Services Organizations and Consultants?
Alpha TransForm (for non-developers) and Alpha Anywhere (for developers) are ideal low-code and no-code tools for professional services organizations and consultants. Alpha TransForm and Alpha Anywhere can work independently or together as a single platform and are ideally suited for digital transformation projects, building custom applications, and more. Alpha TransForm helps non-professional developers craft online or offline mobile apps in minutes that utilize the latest mobile features (camera, GPS, etc.) for fast, accurate data capture. Alpha Anywhere has the unique ability to rapidly create mobile-optimized forms and field apps that can easily access and integrate with any database or web service and can exploit built-in role-based security or robust offline functionality. Learn more about Alpha TransForm and try it free for 30 days.