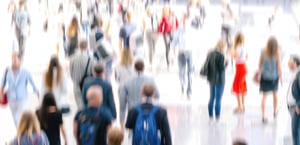 As the world struggles to fight the ongoing pandemic and start a recovery, one thing is abundantly clear: We can never go back to the way things were before COVID. There will be a "new normal" both for the working world and the way we all live our daily lives.
Also clear: In the new normal, mobile apps as well as IoT will play a significantly larger role in the way we work, do business and live. So concludes the article, "IoT and mobile apps taking on new roles in the 'new normal'".
The article notes, "IoT and mobile apps will take on increasingly important roles as part of technology solutions that monitor and regulate the movement of people, vehicles and assets to ensure public safety. Additionally, solutions that address personal and health tracking will be in high demand as the pandemic is expected to be a part of our lives for the coming years."
For example, the article says, mobile apps, IoT and artificial intelligence will combine to automatically record and track people's temperatures in the workplace and public locations such as airports, public transit, schools, and arenas, as a way to prevent outbreaks before they start.
In addition, businesses and consumers will want to use more contactless payment systems, so that people don't have to handle cash or credit cards — and thar requires mobile apps.
Handling money in general will dramatically transform, according to the Forbes blog post, "Mobile Marketing Experts Show How Fintech Apps Will Emerge Fighting Fit From The Covid-19 Crisis." The article starts by noting, "Rattled by unemployment numbers and wracked by the economic fallout of COVID-19, people everywhere are forced to re-evaluate how they will make and save money." It then goes on to say that because of that, "record numbers of consumers are looking to mobile finance apps for advice and answers."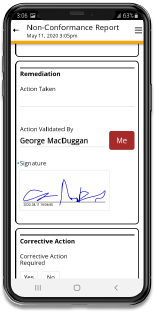 Amir Ghodrati, Director of Market Insights for App Annie, explains, "Consumers are turning to finance apps at record levels amidst volatility in the market and
uncertainty over the economy from the coronavirus pandemic."
The article concludes that digital-only "will become the new industry norm in financial services."
Many other processes are also rapidly going digital. Employees in organizations around the world are taking audits, inspections, work orders, and other data collection forms digital in order to eliminate the use of paper and close human contact as forms are passed around.
In its recent report "Strategy in a Time of Crisis" McKinsey explained, "Businesses that once mapped digital strategy in one- to three-year phases must now scale their initiatives in a matter of days or weeks."
Build Mobile Forms Apps to Get to the New Normal
Intelligent mobile forms offer the best path to help companies move processes digital quickly, while improving and speeding processes simultaneously. Alpha Software is helping companies take paper processes digital both quickly and affordably, so companies can thrive at a critical time. The Alpha TransForm mobile forms builder helps business users craft intelligent mobile forms in minutes that utilize the latest mobile features (camera, GPS, etc.) for fast, accurate data capture. The apps can integrate with systems of record, existing workflows and analytics reporting systems, and are also built to work offline if a WiFi or cell signal isn't available. See some examples of intelligent mobile forms from Alpha Software:
Download the app. Tap "Try a Demo Account". Explore intelligent mobile forms.
After you've explored Alpha TransForm mobile forms, set up a free, no obligation 30-day trial account to build and modify your own intelligent mobile forms.