Organizations must rethink routine practices to keep employees and customers safe.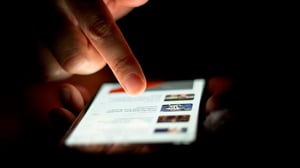 Health officials are clear: wear masks, keep 6 feet apart, and don't gather in groups of more than 10 people. Unfortunately, there's one common business tool that risks getting back to work safely: paper forms.
Companies rely on passing paper forms for work orders, inspection forms, intake data, surveys, and delivery signatures. Shared papers, clipboards, and pens put people in close contact across thousands of schools, hospitals, and businesses. Health experts warn that processes with shared materials or close contact put at high risk for coronavirus outbreaks.
Workplaces and schools will require people to keep a physical distance or follow stay at home orders. As part of their reopening plans, organizations must reduce their daily reliance on paper forms so they can reopen safely
---
A New Solution for Businesses:
The AlphaMED COVID Back to Work App
Conduct daily health checks, meet compliance requirements and identify COVID risks before they arrive onsite

A New Solution for Schools:
The AlphaMED COVID Back to School App
Provide parents with health guidance, remove screening burden from school staff, and stop potential COVID cases before they research school facilities

---
Before employees can return to work and schools can reopen, organizations will need to explore ways to eliminate paper forms. Many companies are already scrambling to find ways to digitize to paper forms in time to reopen safely. Others are just beginning to realize the problem.
Digital forms and mobile forms apps can replace paper forms and help companies build a robust safety plan. They reduce close physical contact, allow for social distancing, and eliminate physical paper or clipboards having to change hands.
In addition to reducing the spread of the coronavirus, mobile forms can also save companies a tremendous amount of time and money. Digital forms can also help businesses operate more efficiently and identify new revenue streams as we reopen the country.
Mobile Forms: Helping Organizations Reopen
An article by the Devimpact Instuite found that mobile forms can result in enormous cost savings. According to the article, the World Bank moved to mobile forms and saved on interview costs by up to 71 percent. Just imagine the savings if each department went digital.
Often one employee enters the data, one person signs the form, and a third person enters keys in the data. This increases the odds that employees will need to hand off paper forms or come in close contact. Mobile forms eliminate worry.
With mobile forms, printing costs are reduced. Data is instantly available saving companies precious time in an economic environment filled with cost-cutting and layoffs. Digital forms dramatically cut data entry errors and make it easy to filter and clean data.
No one wants to be reluctant to return to a school or place of business because they feel unsafe. The challenge for companies is finding a solution that eliminates paper forms almost immediately.
Many businesses have found that Alpha TransForm (free trial and form templates available) is an ideal solution to the problem. Alpha TransForm digitizes mobile forms in about one hour per page. Companies and universities are using Alpha TransForm to create contactless ordering, staffing schedules and digitize paper to meet CDC reopening guidelines.