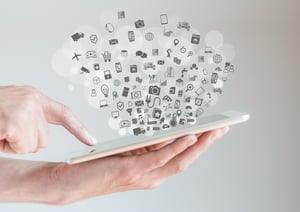 The "app gap," in which enterprises can't meet the internal demand for writing mobile apps is getting even worse, in large part because of the rapid rise of the Internet of Things (IoT). Recent research gives evidence that enterprise needs for IoT drives demand for mobile app developers.
The latest Tech City Job Watch report from the from the U.K. recruitment company Experis, found that due to IoT, the demand for developers with mobile skills rose 39 percent in the last year across ten major U.K. cities.
Although the report didn't cover demand in the U.S., demand is way up there as well, and enterprises are having problems finding enough skilled mobile app developers. A report from Capgemini and LinkedIn, "The Digital Talent Gap—Are Companies Doing Enough?" found the digital talent gap is widening, with 54 percent of organizations reporting that "the digital talent gap is hampering their digital transformation programs and that their organization has lost competitive advantage because of a shortage of digital talent."
All that is taking its toll on enterprise mobile app development. The Gartner report, "Survey Analysis: The Mobile App Development Trends That Will Impact Your Enterprise in 2017," found that "More than a quarter of enterprises globally have not built, customized or virtualized any mobile apps in the last 12 months."
The Tech City Watch report, though, says that the rise of citizen developers is helping to close that gap. Citizen developers are line-of-business staff and domain experts who use low-code app development that let people with minimal technical training write mobile apps. The report found, "The emergence of the Citizen Developer (people with no formal development experience) is enabling those on the user side to take a more active role in mobile development. Emerging tools are displacing the underlying technical complexities and thus enabling users to support the development of the user interface without needing technical expertise."
The report added, "The Citizen Developer might be considered one permanent solution to the (skills gap) problem. Organisations can recruit people who are business oriented, for example, business analysts, who are interested in getting hands-on technology experience; or simply bring in existing employees from other departments who are looking to upskill."
That echoes a Gartner report which found that the use of rapid mobile application development (RMAD) is "allowing those with no programming skills or coding ability, such as people in business roles, to rapidly assemble mobile app prototypes and continuously iterate on these designs."
Alpha Anywhere is ideal for citizen developers, because it makes it simple for anyone to quickly build mobile apps, even if they've never built a mobile app before. It's one of the most highly rated low-code development tools available. InfoWorld awarded it the 2016 Technology of the Year Award for being a top mobile app development leader. It has received the highest number of perfect scores on Gartner's crowd-sourced review site.