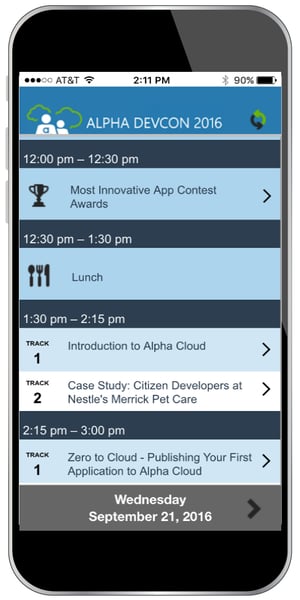 Valerie Silverthorne discusses the shortage of mobile app developers that enterprises are facing today in her TechTarget article, "How low-code development makes building mobile apps easier." She cites research and evidence that low-code development is the solution.

Silverhorn introduces low-code mobile app development tools as a new technology helping nearly any business professional build mobile apps quickly and efficiently. She then goes on to cite research and interview executives about why low-code development tools are increasingly popular and the market for them will only grow.

"Low-code tools let nearly anyone build mobile applications quickly and efficiently. Here's why these development tools will continue to grow in popularity."

She explains how low-code app development software helps build apps faster:

These new tools essentially do the hard work developers had to do -- from data management and integration to visual configuration of business logic tools, built-in rules for development and delivery, and emphasis on drag-and-drop elements, according to the Forrester Research Wave report, "Low-Code Development Platforms, Q2 2016." This is a way companies can "bring people in to the development organization and rapidly drive innovation and compete with the unicorns," said Robert Stroud, principal analyst for infrastructure and operations professionals at Forrester. With these new platforms, Stroud said so-called citizen developers are for the first time "really able to leverage IT."

In her article, she interviews Alpha Software CEO Richard Rabins. Alpha Software has been helping major enterprises use the Alpha Anywhere low-code app development platform to empower citizen developers to build data-driven mobile apps and to digitize business processes. The software is ideal for helping experienced developers become more proficient at mobile app development and increase their productivity. Rabins explains:

Referring to issues like user interface, data storage and connectivity, Richard Rabins, CEO of low-code platform developer Alpha Software, said, "Mobile software development is fundamentally much harder than desktop development." His customers not only lack the time and money to develop mobile apps natively, but in many cases, they simply can't hire a hot shot mobile developer. "If you're a 23-year-old developer, are you going to go work for a startup or at a large company in Deerborn, Mich.?" he wondered. Instead of software pros, Rabins said most users of his platform are office administrators and people. "They aren't coders, and they're never going to be coders," he said.

Read the full TechTarget article "Low-code/no-code platforms simplify mobile app development"
Read our complete Guide to Low-Code Development Platforms.
Click for a demo of Alpha Anywhere's low-code development platform for mobile and web app development.