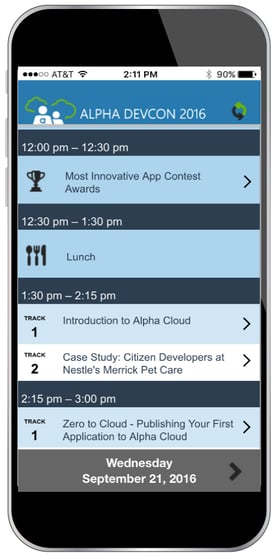 We continue to add new web and mobile apps to our sample app library to show people what's possible with Alpha Anywhere. We hope these apps will help you generate new ideas or give you a starting point for a new app.

DevCon 2016 is an offline-capable mobile/web application for navigating the Alpha Software Alpha DevCon 2016 conference. Although this is a real, working web and mobile app that allows users to explore the Alpha DevCon agenda in detail, it also makes a great starting point or sample app for anyone looking to build a conference schedule application that attendees can use on their mobile devices.

This app, which works on iOS or Android smartphones or tablets, displays the full conference agenda and allows users to explore the sessions. This conference app works offline, is responsive, updates against live SQL data and can be modified for your own use. It's the perfect template for anyone looking to build a mobile app for an event or conference.

More information on the app, or to read how to get started using it.

Full library of Alpha Anywhere sample apps you can explore or modify for your own use.