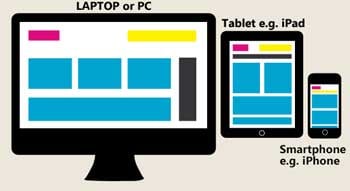 A recent New York Times article captured the dilemma that many Web publishers face: Should they build mobile apps for their Web site or instead deploy a Web site optimized for mobile? Developing mobile apps is expensive and time-consuming, but can increase reader loyalty. Building a mobile friendly website relies on users remembering to visit a site time and time again. So what's a Web publisher to do?

Before answering that question, I'll first summarize the gist of the article. It notes that on the surface, it seems as if mobile apps have already won out over the Web. The author writes:

Apps appear to have largely defeated the mobile web, with Americans spending about 60 percent of online time in a mobile app, about 30 percent on a desktop computer and just 9 percent in the mobile web, according to a recent Goldman Sachs report on digital advertising.
The article went on to say, though, that the costs of developing and maintaining apps can be onerous, particularly when you include the costs of marketing them. The article notes:

For some publishers, the cost of an app can be onerous. Publishers have to market the app, often by buying things like mobile ads that ask readers to install the app. Such costs drove The Magazine, a long-form digital magazine, out of business last year, even though it had 35,000 app subscribers at its peak in February 2013 and grossed about $750,000 over 28 months.
Some publishers try to have it both ways --- create mobile apps and have a mobile-friendly Web site. But the costs are often prohibitive. So what's the answer?

From our point of view, the answer is simple: Do both. Publishers can create custom mobile applications on not just one, but multiple platforms, including iOS, Android, and Windows Phone. They can also develop a mobile-friendly Web site. And they can do it without breaking the bank, or spending too much time in development and maintenance, with the right mobile app development software.

With Alpha Anywhere, you only need to develop an app once, and you then post it as a Web site and as an app for any mobile platform. Alpha Anywhere's rapid mobile application development system makes it simple to create apps quickly that can be deployed anywhere. Click here for details.