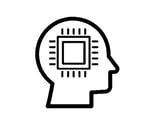 Machine learning and AI can offer tremendous benefits to enterprises of any size and in any industry. But there's a dirty little secret to their use that many companies don't know: Bad data is rampant and can make those technologies ineffective.
Poor Data: The Biggest Barrier to Successful Artificial Intelligence Efforts
So finds a 2019 AI/Machine learning global study from Refinitiv. It warns that poor quality data "is the biggest barrier to the adoption and deployment of machine learning….The adage 'garbage in, garbage out' has never been more pertinent. If data is the new oil, then much of it still needs a lot of refining and that's a heavy lift for the consumers of data."
Sixty six percent of respondents to a Refinitiv survey for the study said that poor data quality impacts their ability to effectively adopt and deploy AI and machine learning. The survey also found that three of the top four challenges when working with new data for machine learning revolve around poor data quality: "accurate information about the coverage, history and population of the data," "identification of incomplete or corrupt records," and "cleaning and normalization of the data."
The study noted that at the AI and Data Science in Trading conference in New York, "Several presenters talked about how difficult it is to find data of the appropriate quality and that some groups can spend 80% - 90% of their time normalizing and cleaning it."
How to Make Sure Your Data Is High Quality
Refinitiv recommends several ways to help make sure data quality is high, including making sure it's derived from a trusted source and that it be easily accessible.
One of the best ways to make sure that your data comes from a trusted source and is easily accessible is to use mobile forms and apps to acquire it. That way, you have control over data quality, and can make it instantly accessible when and where it's required.
A Valuable Guide to Successful Artificial Intelligence
The guide, "Adding Artificial Intelligence Capabilities to Your Mobile Apps," notes that mobile apps are the missing link in AI implementation —and can help improve data quality. The guide says, "Traditional data collection often comes from multiple sources including manual data entry and paper forms. It could take weeks to get hand-written forms completed in the field into corporate systems of record, and often the results are prone to errors. If your data isn't accurate, your AI results will be lackluster, if not completely wrong. As a result, it's critical to ensure that your AI effort is based on accurate, timely data. Modern mobile forms that incorporate best practices for field data collection are critical to enable solid AI."
The guide will help you make sure your AI data is of the highest quality and also aid you in thinking through some of the key market factors, technology starting points and business examples for applying AI to your next business app. Get a free copy of the AI guide: "Adding Artificial Intelligence Capabilities to Your Mobile Apps".