Companies must build more secure, powerful task-based mobile apps to serve employees and customers on mobile devices. Traditionally, native app development was the answer, but now virtually every business task needs to be mobilized and there just aren't enough developers to do the work.
New mobile app platforms are being introduced to help companies speed mobile app development. It's a complex business, with developers who once did desktop applications, now needing to add code to enable bar code scanning, image capture, audio recording, offline capability and more. These new mobile app platforms allow a wide range of developers, even those without knowledge of popular languages for mobile development, to build these complex apps.
Today, we're taking a look at the powerful, highly rated Alpha Anywhere Mobile App Development Platform.

The best mobile app development platform for building apps.
Alpha Anywhere is shipping and it's turning heads in the industry because it is the ONLY app development and deployment platform that offers a complete solution for finally getting the mobile and web apps you need built.
Build Mobile Apps Faster
No other platform lets you build enterprise mobile apps faster and with more confidence than Alpha Anywhere. The software builds iOS and android apps with great user interfaces thanks to its development framework: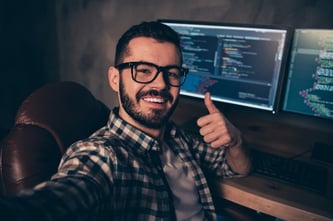 Front-end and back-end application platform contains everything you need on the server and client-side to get the job done.
Standards-based and open architecture.
Offline apps

capability is included in the base product.

When building mobile apps, offline support is regarded as critical by 9 out 10 enterprises (VDC research) and, without Alpha Anywhere 3.0, adds huge complexity and costs. (Wired Magazine says it triples the cost and at the recent Xamarin conference they said it can increase the costs 10X!)
Cross-platform apps that run on any operating system
Affordable and transparent pricing.
Customers are using this app development platform to speed up the development of mobile apps.
Here's what they're saying about the product and what it's allowing their businesses to achieve:
As a world leading provider of testing, inspection and certification services we have a large global workforce in excess of over 60,600 employees. Many of our auditors require constant access to critical business data while in the field - even when an internet connection is not available.

We are excited to implement Alpha Anywhere's offline capabilities, which will provide many benefits across our business. For example, our team of elevator inspectors in the Netherlands are required to capture on-site asset information, often when no signal is available. Our pilot mobile app built using Alpha Anywhere and PhoneGap will enable inspectors to record data in real-time for later synch with our primary systems, allowing us to improve efficiency and provide the best possible service to our customers."

- Rohan Shenoy, ISM North West Europe, IS Lead Developer
---
Mobile Apps that Can Work Without a Connection
Until now, offline support, which is critical for mobile apps, was simply too expensive and complex. Alpha Software is constantly innovating and is focused on saving us development time and money. We are particularly pleased with the offline capabilities seamlessly built into the Alpha Anywhere mobile app development platform."
A Record of Innovation
So many amazing things about Alpha Anywhere Version 3.0 but IDE integration with one of largest payment processors Worldpay WOAH!"
See Everything That's New
---
Alpha Anywhere on IIS, offline, templates, twitter integration, social login, new controls for mobile apps...Innovations never stop. The apps run like native apps and deliver great user experiences."
Read More From The Twitter Community
Deploy and Update Apps in Seconds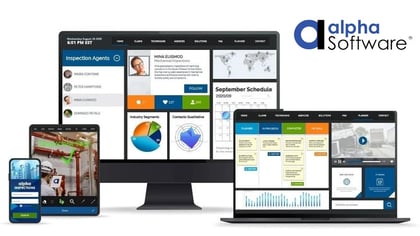 Alpha Software is different than other mobile platforms because you can build, deploy and update your apps with its fully managed cloud-based deployment solution.
The Alpha Cloud Integrated, automated cloud hosting service deploys applications directly from Alpha Anywhere to a robust website with minimal delay and cost. Deployment is easy with reasonable defaults, but developers are also in control of a rich set of options. As your requirements grow, developers have the tools within Alpha Anywhere to manage their environment and how their applications are deployed, allowing flexibility to scale as needed. Alpha Cloud currently runs on the Amazon AWS infrastructure.
Alpha Anywhere Community Edition allows you to build apps for free. You only pay when you deploy or publish your app. The license lets you:
Utilize an award-winning app builder

Produce cross-platform apps for both iOS and Android devices
Develop an unlimited number of apps at your own pace
The license also ncludes access to the lessons and guides needed to learn how to build mobile apps. Click to start building apps for free.