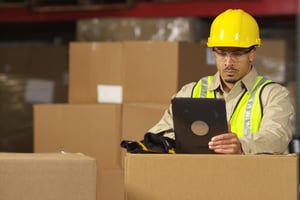 The tablet market for consumers has taken a nosedive, and doesn't appear poised to recover. But businesses are buying tablets in increasing numbers, particularly rugged ones and 2-in-1 devices, because they're ideal for digital transformation, the factory floor, for field service staff and for other mobile business mobile applications. So concludes several recent studies.
First, a look at the sagging consumer tablet market. A recent IDC study, (IDC) Worldwide Quarterly Tablet Tracker, found that the worldwide tablet market declined by 5 percent year over year in the second quarter, falling to 32.2 million worldwide. Apple remains the market leader, with a 38.1 percent market share, followed by Samsung with a 15.2 percent market share and Huawei with a 10.3 percent market share.
A study by VDC Research, "The Global Market for Enterprise Tablets," backs up IDC. It found that "consumer demand for tablets has largely petered." But that doesn't mean the tablet market is dead, because businesses are increasingly using them. The report says, "the opportunity in the enterprise—in particular for ruggedized devices—remains strong. Tablet use cases are emerging across most sectors, supporting a wide variety of applications, in particular in customer or asset-facing workflows."
The ruggedized tablet market is particularly strong, because those are the devices frequently used in the field. The report found that the ruggedized tablet market will likely total $882.3 million by 2023. The rugged tablet market, the report also found, is primarily made up of Windows 10 devices, although "Android is making in-roads across multiple industries…Android is becoming far more trusted and prevalent in the enterprise." As for form factors, the norm for ruggedized tablets are those that are between 10 and 12.9 inches.
---
The ruggedized tablet market is expected to total $882.3 million by 2023, with the market leader being Windows 10 devices and Android tablets making significant gains.
---
Also increasing in popularity are 2-in-1 devices, the report found. It notes, "At least seven companies now offer 2-in-1 devices, with at least three providing rugged 2-in-1 devices." The use of non-rugged consumer-level tablets are also pervasive in the enterprise, with Apple, Microsoft, and Samsung the leading providers.
Why are 2-in-1s and ruggedized tablets so popular in enterprises? The report said it's because they support mobile enterprise line of business (LoB) applications. It notes, "examples of end users whose applications often rely on tablets include factory workers, warehouse workers, field service technicians, police officers, EMTs, nurses/clinicians, flight-line aircraft personnel, and many others."
The Importance of Mobile for Digital Transformation and Frontline Workers
Ruggedized tablets and 2-in-1s are important tools for enterprise digital transformation, and to help frontline, or firstline, workers. Putting better mobile apps in the hands of frontline workers has great impact. One Forbes Insight study found that "43% of executives in organizations with high levels of digitally empowered firstline workers report excellent progress in their digital transformation efforts, versus 21% of executives with few digitally empowered workers." Read more stats from the Forbes Insight study and why mobile apps for firstline workers are the key to digital transformation.
Empowering Frontline Workers on Rugged Devices
Rugged tablets are only as good as the software that runs on them. Alpha Software built Alpha TransForm to arm both developers and line of business users with a mobile app development tool for building the apps frontline workers using rugged tablets. Companies in construction, manufacturing, energy, shipping and more use Alpha Software products to power tasks in construction sites, warehouses, oilfields and ports around the world, Alpha TransForm allows users to craft online or offline mobile apps in minutes that utilize the latest mobile features (camera, GPS, etc.) for fast, accurate data capture (think patient intake forms, inspection forms, claims forms, etc.). Learn more about Alpha TransForm, test drive a sample app or build your own app for free
Further Reading: