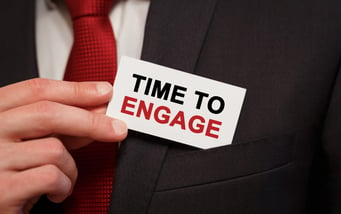 When most people think of who should take the lead an enterprise's digital transformation, they often start at the top: The CEO, the CIO, or someone else in the C-Suite. But an article in Forbes by Eric Johnson, CEO of Nintex, a business-process automation company argues the opposite. A successful digital transformation, he says, should take its cues from the bottom up by looking at the needs of frontline employees. I would add that no only is understanding their needs, but also engaging employees in digital transformation projects is pivotal to achieving success.
Johnson notes that a report by Capgemini found that 39 percent of organizations believe they don't have the sufficient digital capabilities to meet their goals for digital transformation. He then writes: "In the frustration of waiting for their efforts to pay off, many members of the C-suite don't realize that the digital transformation mission doesn't impact their front-line employees. The words don't have much meaning for an administrative assistant or customer service rep. However, many of these

employees' daily tasks actually fit in with digital transformation objectives. Getting the printer to work, knowing who to send a contract to, submitting an expense report -- companies can't overlook any of these aspects on their way to digital transformation because as minor as they seem, they keep operations moving and employees productive."
Because of this, he says, "Organizations should design intelligent processes that codify, improve and automate from the bottom up. Rather than grappling with high-level, amorphous issues with no clear beginning or end, start simple. As it turns out, the processes affecting your employees on the front lines makes for the perfect place to start."
He points out that businesses are extremely inefficient at performing the simplest, most basic tasks. He cites a study by Igloo Software that found 32 percent of employees avoid sharing a document because it takes too long to find, and a Time etc. report which says that 43% of employees "spend up to half their days organizing meetings and calls." He adds: "When employees are wasting their time on simple tasks, the business loses hours and expertise that could have gone toward more strategic work. An astounding 93% spend a quarter or even less of their time on creative business ideas or leads."
He concludes: "By involving frontline workers in companywide innovation plans, that inefficiency begins to disappear. In starting from the bottom, oftentimes with the simplest changes, the organization sets itself up to move swiftly and efficiently upward with its process overhaul. By the time they arrive at the trickiest issues, they have plenty of experience in digital transformation problem-solving with simpler issues before that point…When shaping your digital transformation plans, don't forget to leverage the power of your people and move the effort from bottom to top."
What's the Best Tool To Speed Up Digital Transformation?
In another recent Forbes article this month, "Low-Code/No-Code? HPaPaaS? Here's What Everybody is Missing", Jason Bloomberg talks about digital transformation and the two types of products that can deliver for companies: visual application development environment with code generation and model-driven execution platforms. He recognizes Alpha Software in the "code generation" category, which includes such benefits as: apps that run independently of the platform, have high performance and include offline capability.

Alpha Software's Alpha TransForm technology is helping enterprises speed digital transformation. It offers tools that lets existing staff build business apps much more quickly and effectively and enables savvy business domain experts and IT departments to work together to digitize business processes and deliver tangible business impact. It also simultaneously enables IT to control data integration with systems of record, and data security compliance. Read how Alpha TransForm is helping companies harness the power of the smartphone for business transformation.