What big software or IT trends can companies expect in 2022? One thing is clear: Among the most important software trends across organizations in the new year and beyond will be the increasing use of low-code technologies to build mobile apps, enable more remote work and streamline business activity using smartphones and tablets.

So says Nisha Talagala in her Forbes article, "Where Is Coding Headed? 7 Trends For 2022 And Beyond." The first trend is what she calls "Coding for everyone." She notes that "Coding is no longer just for computer scientists or those looking for jobs in the IT industry." As evidence, she notes, "In 2020, India made coding mandatory for all students of 6th grade and above. In the US, discussions have been ongoing for several years about whether coding should be considered equivalent to a foreign language requirement."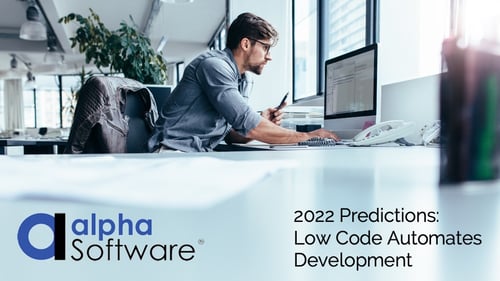 Coding in 2022: No-Code, Low-Code Automates Routine Development
The next big trend is what she calls, "NoCode, LowCode and CodeGen." These trends, she says, "are a recognition that not all coding tasks are equally important uses of an individual's time. These tools enable automation of the low-level tasks of coding, freeing up the user to focus on higher-level tasks such as code design, user experience, and algorithm choices. Some of these solve problems (like analyze data), some generate apps, and others generate code that the user can run themselves - such as auto-generated AI code in a Google collaboratory notebook."
This might seem to contradict the first trend she writes about, that coding is for everyone. But that isn't the case, she says, because "automating the lower levels of coding is a natural part of making coding accessible to all."


Coding in 2022: AI Does Coding
Other important trends include "AI that codes." She points out, "As the algorithms inside LowCode/NoCode/CodeGen tools become more sophisticated, the distinctions between these two trends will disappear."


Coding in 2022: Open Source Grows in Popularity
Open source, she believes, will continue to increase in popularity in 2022, and APIs will become increasingly useful and more widespread. Her final trend may be the most intriguing one: "Creativity and community." She believes code will help people better express themselves, such as musicians using AI to help compose and play music.

Summary: Coding will be mainstream and powerful app development will be easier for everyone.
Overall, she believes, the trends lead to these two takeaways:
"Coding is likely to be not just for computing jobs, but also as a form of expression for everyone.
"Building powerful code (in whatever way you define powerful) is getting easier, allowing the creator to focus more on creativity and functionality and less on implementation details."


An Important Step in 2022: Selecting the Right Low-Code Software

In order to gain full ROI from your low-code investment, it's important to select software that works for your business needs and the skill level of your workers.
A Guide To Help You Adopt Low-Code at your Organization
For companies that need to evaluate low code software to select a low-code platform that fits their workers' experience levels and business requirements, we've developed a Low-Code Development Handbook to help you. This low-code buyer's guide explains top features you should make sure your software includes, understanding licensing models, negotiating the best price, and more.
The Best Low-Code Software: Alpha Software Corporation

Alpha Software offers the best no-code/low-code application development software for companies looking to provide a development tool to make experienced developers more productive while opening up app development to a wide range of employees. The software includes both no-code and low-code development environments, built-in offline apps, enterprise security. and data integration to deliver powerful business apps with rich features..
Alpha TransForm no-code software helps business users craft online or offline mobile apps in minutes. The apps can utilize the latest mobile features (camera, GPS, etc.) for fast, accurate data capture. Developers can even tie the apps into business process management systems. Learn more about Alpha TransForm no-code app builder.
Alpha Anywhere low code app development software has the unique ability to rapidly create applications and mobile forms that can easily access and integrate with any database or web service and can exploit built-in role-based security or robust offline functionality. Build low code apps for free with Alpha Anywhere Community Edition.