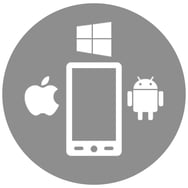 I've written before about why cross platform mobile app development is absolutely vital for any business today. It may be, though, that you're on the fence about whether it make sense to use a single codebase for multiple mobile operating systems. If so, read on.
Vipin Jain, Co-Founder and CEO of Konstant Infosolutions outlined why cross platform development are vital in his blog post, "Business benefits of cross platform app development."
He offers the following reasons why cross platform app development is right for anyone looking to build mobile applications.
First, he says, you can use a single codebase to target multiple platforms. This allows you to build apps using minimal code. You'll be able to write once, and deploy to multiple platforms. This saves time and money.
You'll also be able to offer a common user interface across all those platforms. That will make it easier for customers who use more than one mobile platform.
Using a single codebase, he says, also saves in maintenance costs because you won't have to track and fix bugs for multiple codebases.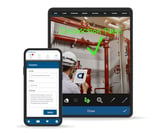 Writing cross platform mobile apps also makes it easier to find developers to write apps. App developers are in great demand these days. Finding ones that can write for multiple platforms can seem to be impossible.
With a cross platform mobile app platform, they only need to write for that platform. They can then deploy the mobile apps from there.
VDC Research Director of Mobile Software Eric Klein offers several more benefits in his blog post, "Cross-platform mobile app development is more viable than ever." He points out that "Cross-platform mobile app development tools offer the native look and feel for both iOS and Android that organizations want." That means you won't have to compromise on features in your apps.
He adds, "Developers can also include platform-specific modules -- such as status bars, navigation or access to native elements such as the camera and contacts."
And cross-platform apps, he says, "offer some benefits comparable to native apps, such as offline access and the ability to send push notifications."
Like Jain, he says that it simplifies maintenance as well. He notes, "Cross-platform mobile app development can also be advantageous for application maintenance, because developers or IT staff who find bugs in a common code base only need to fix them once."
Choosing the Best Cross Platform Development Tool
Alpha Software's platform allows you to quickly build and deploy mobile and web applications. These highly secure applications run like native applications on both personal computers and mobile devices.
With built-in mobile app capabilities, developers with or without mobile development experience can rapidly create robust mobile apps in significantly reduced time than with competing methods using a single code base.
With Alpha Anywhere, you will find a complete and cost-effective mobile development and deployment platform.
Once you build your app with Alpha Anywhere, Alpha Cloud enables one-click deployment for your apps, enabling you to keep your business applications safe and secure while speeding them to end-users' mobile devices.
In addition, Alpha Software offers a range of mentoring, training and professional services to help you speed and scale cross-platform mobile app development at your organization.