Many companies are wondering if Microsoft PowerApps is a fit for building enterprise apps. See what analysts have to say and read about one particularly strong alternative.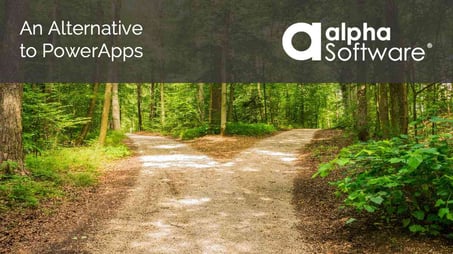 Pros and Cons of PowerApps
Overall, business users feel PowerApps is a good option for building no-code business applications.
Many users applaud its no-code speed of development and the fact that it integrates well with Microsoft products. Microsoft Azure integration is also very strong. Users also appreciate the pre-built templates that can kick-start development. It seems the platform is a good fit for building very simple business apps.
When advanced users want true enterprise capabilities, that seems to be where PowerApps starts to fall short. On review sites such as Capterra, G2Crowd and TrustPilot, and TrustRadius, users voice their frustration with:
slow load times (particularly with custom connections)

limited options to tweak code that handcuffs advanced developers

the long learning curve for the software

the limitations for custom smartphones and tablet layouts
limited to no drag and drop capabilities

licensing that changes and requires substantial additional investment for some features/scaling.
Users who are trying to build powerful enterprise features - security, integration, workflow, customized one-handed data entry interfaces - seems to run into roadblocks with PowerApps.
Analysts on PowerApps Alternatives
A Gartner PowerApps report, "Assessing Microsoft PowerApps as a Citizen Developer Platform," educates companies on when PowerApps is an appropriate tool for citizen developers. The report recognizes Alpha Software as an alternative to PowerApps for companies who require on-premise hosting and very rich mobile app capabilities with comprehensive support for offline funcationality.
In the report, Gartner Research Director Kyle Davis wrote:
"PowerApps is a public cloud-only service. Organizations seeking to deploy apps on-premises will need to consider an hpaPaaS, which offers an on-premises platform such as Alpha Software."
The report recognizes Alpha Software as an alternative to PowerApps for companies who require on-premise hosting and very rich mobile app capabilities. Like PowerApps, Alpha Anywhere lets you build web and mobile apps for free. The software creates responsive apps with outstanding user experiences on desktops, laptops, and iOS or Android devices. Unlike PowerApps, the software also offers intelligent offline apps including sophisticated control over conflict resolution and the ability to access on-device data right out of the box, and also have extensive integration capabilities so enterprises can leverage virtually any data source - with no limits on API calls.
An Alternative to PowerApps
Successful digital transformation requires the involvement of the whole organization -- not just IT. Experienced IT developers or line of business users (citizen developers) can only succeed at transforming the business if the product they're using is built to serve each group specifically -- around how they work and their unique skills. This is where Alpha Software shines.
While PowerApps is great for building some business apps, the Alpha Anywhere application development platform can be thought of mobile app building on steroids.
Alpha Anywhere software utilizes both no-code and low-code to enable both business users and professional developers to create and deploy sophisticated mobile forms, web forms, workflows and highly customised enterprise apps. Alpha Anywhere business apps go beyond PowerApps with features like:
intelligent offline apps
ability to fully customize smartphone and tablet layouts
client-side and server-side development and reporting
robust real-time workflow and integration capabilities
intelligent offline apps (apps that work without a cell or WiFi connection)
advanced data-mapping capabilities, calendaring and charting
Further reading: Why citizen developers - not just IT - are the future of mobile..
Watch a webinar that details what's possible by integrating the Alpha Anywhere low code platform with Microsoft Power BI.