Many companies are wondering if Microsoft PowerApps is a fit for building enterprise apps. See what analysts have to say and read about one particularly strong Power Apps alternative.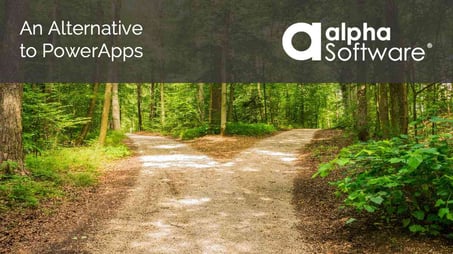 Pros and Cons of PowerApps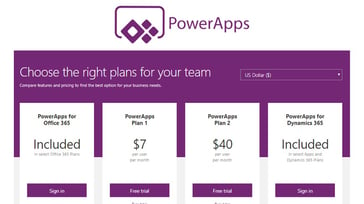 Overall, business users feel PowerApps is a good option for building no-code business applications.
Many users applaud its no-code speed of development and the fact that it integrates well with Microsoft products. Microsoft Azure integration is also very strong. Users also appreciate the pre-built templates that can kick-start development. It seems the platform is a good fit for building very simple business apps.
When advanced users want true enterprise capabilities, that seems to be where PowerApps starts to fall short. On review sites such as Capterra, G2Crowd and TrustPilot, and TrustRadius, users voice their frustration with: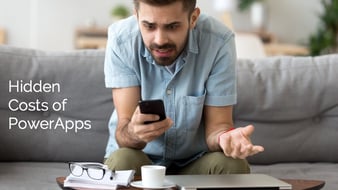 slow load times (particularly with custom connections)

limited options to tweak code that handcuffs advanced developers
the long learning curve for the software

the limitations for custom smartphones and tablet layouts
limited to no drag and drop capabilities

licensing that changes and requires substantial additional investment for some features/scaling.
Users who are trying to build powerful enterprise features seem to run into roadblocks with PowerApps. Hurdles include security, integration, workflow, custom one-handed data entry interfaces and more.
---
Recommended reading:


Microsoft PowerApps is free and this can be compelling, but app builders beware! There are some gotchas in PowerApps pricing and licensing.
Is PowerApps the Best Enterprise App Builder? A Review of PowerApps
PowerApps comes with the Microsoft operating system, works with Microsoft applications, and offers some simple tools for app development. So why don't more companies select it for mobile app development? Read the 6 reasons why companies don't choose Microsoft PowerApps.


---

Analysts on PowerApps Alternatives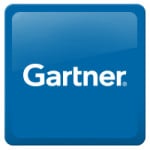 A recent Gartner PowerApps report educates companies on when PowerApps is an appropriate tool for citizen developers. In "Assessing Microsoft PowerApps as a Citizen Developer Platform," Gartner Research Director Kyle Davis wrote:
"PowerApps is a public cloud-only service. Organizations seeking to deploy apps on-premises will need to consider an hpaPaaS, which offers an on-premises platform such as Alpha Software."

The report recognizes Alpha Software as an alternative to PowerApps. It's touted as a great solution for companies that require a solution they can install on-premise with rich mobile app capabilities. Alpha Software also leads on offline app capabilities, or the ability for apps to work with our without a WiFi connection.
Like PowerApps, Alpha Anywhere lets you build web apps and mobile apps for free. The software creates responsive apps with outstanding user experiences on desktops, laptops, and iOS or Android devices.
Unlike PowerApps, the software offers intelligent offline apps, including sophisticated control over conflict resolution. Alpha Anywhere also has the ability to access on-device data right out of the box. This makes life easier for users because they don't need additional development to take advantage of device storage. The software also has extensive integration capabilities so enterprises can leverage virtually any data source - with no limits on API calls. Developers can then deploy solutions quickly and securely.
An Alternative to PowerApps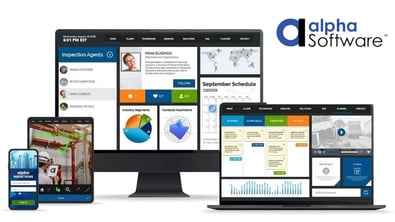 Successful digital transformation requires the involvement of the whole organization -- not just IT. Low-code and no-code software can dramatically help, since it reduces time spend hand coding.
Developers or line of business users can only succeed at digital transformation if the product caters to them. Software must be built around how app creators work and their unique skills. This is where Alpha Software shines.
While PowerApps is great for building some business apps, it's not ideal for all situations. In contrast, the Alpha Anywhere application development platform can be thought of mobile app building on steroids.
Alpha Anywhere: A Leading Low-Code Development Platform that allows users to create mobile and web applications.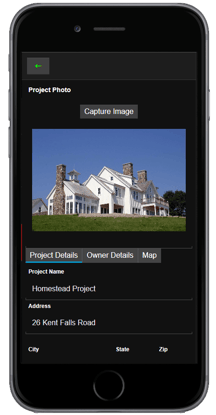 Alpha Anywhere software utilizes both no-code and low-code software to reduce time consuming tasks. Both business users and professional developers can create and deploy sophisticated mobile forms, web forms, and workflows. They can build highly custom apps. Alpha Anywhere business apps go beyond PowerApps with features like:
intelligent offline apps
ability to fully customize smartphone and tablet layouts
client-side and server-side development and reporting
robust real-time workflow and integration capabilities
intelligent offline apps (apps that work without a cell or WiFi connection)
advanced data-mapping capabilities, calendaring and charting
Alpha Anywhere produces outstanding UI design, including apps that:
Enable faster form completion, including speeding data entry with radio buttons
Work offline and run flawlessly on any mobile device, regardless of platform or screen size.
Are location and time aware.
Have powerful features optimized for one-handed smartphone data entry.
Take full advantage of mobile hardware (to store large rich media files, etc.).
Scan bar or QR codes and perform relative look-ups against remote data sources or on-device databases.
Utilize digital ink (for things like annotating images and digital signatures).
Pre-fill data on a mobile app from a corporate system of records
Take advantage of web services and workflow automation.
Initiate SMSes or emails based on calculations or transformations performed on the collected data.
Create dynamic and filtered pick-lists for much faster and more accurate data input.
---
A helpful comparison chart on gaps in PowerApps performance and capabilities.
This chart evaluates how each app builder works and identifies questions you should ask to make an informed decision. For example, only Alpha Anywhere can produce cross platform mobile apps that work offline. It reveals that only Alpha Anywhere can be deployed to Apple and Android App stores or deployed on-premise. In addition, PowerApps cannot take full advantage of mobile device hardware. Also, you cannot deploy Power Apps on-premise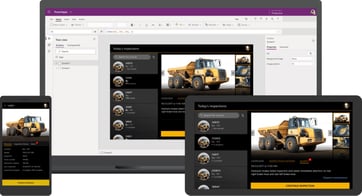 You may have an on-premises SQL server database, but buyer beware: users cannot deploy PowerApps on-premise.
It's important to recognize that Alpa Anywhere apps are very different from desktop applications or traditional paper forms. Mobile apps will disappoint end-users if they don't address the real-world mobile experiences that field workers face. Examples of problems faced by field workers include:
An HVAC inspector inputs data and gets an error message alert that this critical meter is outside safe working parameters. T

he app must do the calculation and check against safety parameters. It must alert the inspector then immediately initiate a workflow or send an SMS/email to remediate the problem.

A field service worker without a cell or Wi-Fi signal needs to service various generators. When she scans a barcode on the generator, it brings up a service manual with relevant service videos. This large data file must be stored on the mobile device for use when offline.
Further reading:
Understanding the hidden costs of PowerApps. The Microsoft Power Platform is free and this can be compelling, but app builders beware! There are some gotchas in PowerApps pricing and licensing. We outline the pricing model, discuss enterprise-grade capabilities and connections to on-premises data sources that may cost more, cloud-based capabilities, and more.
Why citizen developers are the future of mobile app development. Enterprises simply can't find and hire enough developers to get the mobile apps they need built. VDC Research finds that because of that, IT is no longer leading the way to mobile app development. Instead, citizen developers are taking over app development within organizations to bridge the gap.