2021 Will Be the Year of Low-Code Development in Business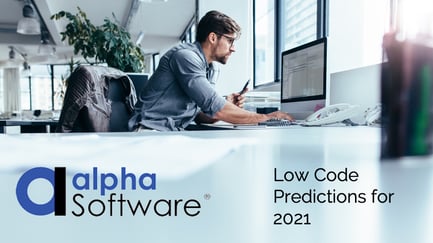 Low-code app development has become increasingly popular in 2020 and the rapid adoption of low code is only expected to increase. In light of this digital transformation, a recent TechRepublic article states that "2021 will be the year of low-code."
The TechRepublic article points out that Forrester has predicted that in 2021, 75% of all development shops will adopt the platform.
Separately, Gartner predicts that more than 65% of app development would be done via low code application platforms by 2024.
The COVID-19 Pandemic and Remote Work Will Drive Low Code Growth
Why will low-code go mainstream? COVID-19 will drive the change. The article notes that a Forrester report found that "enterprises that embraced low-code platforms, digital process automation, and collaborative work management reacted faster and more effectively during the pandemic] than firms relying only on traditional development."
The article goes on to say that the Forrester report found three primary reasons for the move to low-code:
Large service providers geared up to guide enterprises to effectively embrace these platforms.
Enterprises and their partners using low-code platforms to deliver critical business applications including modernizing old core apps.
The first success stories about big citizen developer programs in enterprises beginning to appear.
Low Code Will Change How Development Teams are Organized
The benefits of low-code development have been reported for so-called citizen developers, line of business experts without coding expertise and training. But Jeffrey Hammond, Forrester vice president, and principal analyst, and the report's lead author, points out that IT will be dramatically changed by it as well. In an interview about the report, he said that low-code is "potentially going to change the way that we organize the software development teams."
He notes that, "In a classic IT shop, all the developers are in the IT organization and they roll up to the CIO, and maybe they get requirements from the business, or they speak to a business sponsor every couple of weeks or something like that, but there's a very siloed organization."
Low Code Will Enable More Business Agility
However, IT increasingly moving to an agile development model will change that. He explains the change this way: "As you start to see more business developers get involved with development via low-code, I think you've got the potential of seeing even more hybrid teams where developers get embedded inside the business organization, either via matrix management or even aligned or assigned to those organizations.
"So imagine a world where instead of a business user maybe giving you a sketch, or giving you a requirements document, and as a developer, you have to interpret that. Imagine a developer may be actually doing some of the wireframes of a business user, and doing some of the UI."
Low-Code Will Encourage Developers Be More Creative
In 2021, Hammond expects the use of low-code will lead to more cross-functional teams. And he says that because of that, low-code will liberate developers to think more creatively and deliver better apps for organizations.
He explains, "You want developers that are capable of expressing creative thought, of taking autonomy for their actions, of working in a culture of mastery and in buying into shared purpose. And if you have those things, then they want to feel empathy for the end user. They want to learn about what the user wants. They want to learn about the new technologies that are going to satisfy, and deliver the value to that user."
Low-code, he says, lets developers do all that.
Low Code Will Enable IT to Embrace Citizen Developers
A recent article in Silicon Angle discussed that the growth of low code in companies will increase the number of citizen developers in 2021 and beyond. IT once worked to control app development, but better low code development tools are changing that trend. In addition, more trust in this The article quotes Avon Puri, global chief digital officer at venture capital firm Sequoia Capital Operations LLC:
"IT used to get in an uproar about these things. I think we missed out on some things that could have been done and now that the tools have matured, there's been a better embrace of shadow IT."
Low-code and no-code solutions are opening up development to new employees who can now build simple apps and programs. Coding isn't required to design applications.
The Best Low Code Software for 2021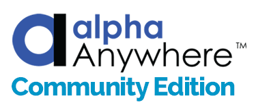 One of the software companies are adopting to meet low code objectives in 2021 is Alpha Anywhere.
Alpha Anywhere is a top-rated low-code application development platform that's ideally positioned to help professional developers and citizen developers solve 2021 business challenges.
The low code software delivers business apps with outstanding user experiences, intuitive data collection controls that speed work, and the latest in mobile features, such as image capture with annotation, digital signatures and bar code scanning. and Alpha Anywhere apps can easily access and integrate with any existing datasources your business already uses. In addition, apps built with Alpha Anywhere always work, even without a WiFi or cell connection. Alpha Anywhere enables agile practices and cloud deployment easily.
You can build apps for free with Alpha Anywhere Community Edition.
See data on other recent low code trends.
Get employees screened for COVID-19 and back to work with the AlphaMED Workplace Wellness App.