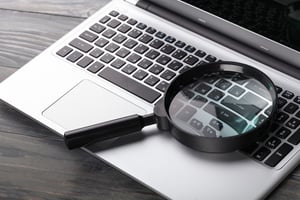 Companies that convert paper forms to electronic forms are finding massive savings and efficiency gains.
Paperwork is greatly reduced, data needs only to be entered once and mistakes can be largely eliminated because they can be caught at the time of data entry. IDC estimates that in the US and UK alone, mistakes from double data entry exceeds $50 billion per year!
Plus, information is available faster to support better decisions, important workflows can be initiated more quickly and critical alerts relating to things like safety and machine failure can be sent sooner.

In addition online mobile forms can become smart and do so much more,
thanks to the power of "lookups."
Lookups can intelligently pull a variety of information from a variety of sources (both online and offline) to help field workers do their jobs more effectively and faster.

Here are some examples of what lookups can do in the context of data capture into a mobile form.
Let's suppose a service technician needs to inspect and repair industrial boilers in the field. (We could have used a myriad other examples in fields such as health care, manufacturing, construction. energy, finance, research,pharmaceuticals etc.)
To tell the technician where he or she needs to go, the form can look up and retrieve address and coordinate data for the destination location or building, and display this location on a map for quick and accurate navigation.

Before the technician starts the repair, they can look up the service history of the equipment to alert them to things to look for. For example, a previous notice may indicate to be on the lookout for excessive corrosion around a safety valve.
While on site, if the technician may need to get in touch with the building operator to ask questions or get approvals for additional work. The technician can look up the contact information for the building supervisor and initiate a call or text.
When the technician enters a temperature reading for the vent gas, for example, the form can look up to see if that reading is acceptable or possibly dangerous and warn the technician accordingly, as well as present a document outlining appropriate procedures if there is danger
The form can look up outside temperature and weather data from an online data service (using an API) before advising the technician whether the boiler should be taken out of commission (or not) for regular maintenance.
If replacement parts are needed, the mobile form can lookup against a

database

(online or offline) to see if the part is in stock in the technician's van or in the dispatch center or if it needs to be ordered.

If the technician is unsure how to complete a repair, they can look up technical manuals and repair videos that are stored right on their mobile device to assist them. (The eliminates having to worry about the availability of wifi or cellular signal.)

If, based on the data that has been collected, the form indicates to the technician that the boiler should be taken out of service for maintenance, the form can look up to see if there are other repairs that should be performed at the same time.
The screen shot below helps illustrate some of these points.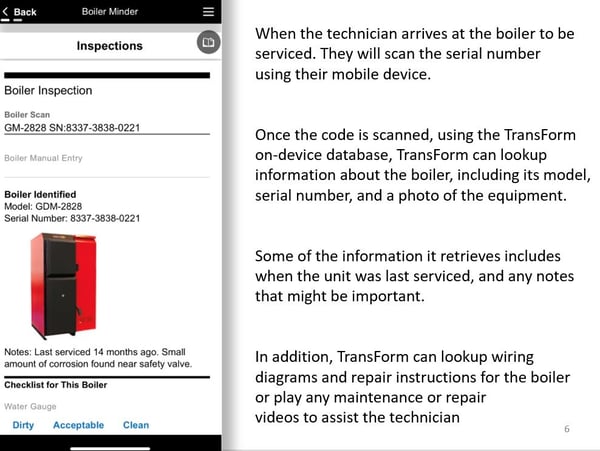 Alpha TransForm is the only Mobile Forms platform that has the ability to perform lookups from from both online and offline data-sources. So if any of these scenarios are something you want in your application, look no further. Email marketing@alphasoftware.com to request a personal demo or simply take a free trial of Alpha TransForm and try building a form in minutes