Developers are frequently challenged with turning legacy applications into modern business apps that can work cross-platform. Here's how one developer used low code software to make it happen.
Tech consultant Terry Large had a big decision to make when it was clear he had to modernize his more-than-40-year old application CAL Trax, which tracks public defender cases and billing for counties in multiple states.
The application had been built originally in 1987 using Tandy's Profile database and had been altered through the years using Microsoft Access. But it was showing its age. Data entered on a website was not downloaded to the server until off hours, making the data a day behind.
Large knew this disconnected Access application needed to solely be a cross platform web application and able to run on desktops laptops and mobile devices, all in real time. After looking at a variety of platforms, he chose Alpha Anywhere. The decision, he said, was easy to make.
"It's a low-code platform that offers everything I need," he says. "It just plain works. What's especially useful is that the people who work for Alpha have created rock-solid genies that generate JavaScript, so when you set up your database and build the web components , it's writing the code you need behind the scenes. If you want to write your own code, you can do that as well."
Just as important as the power of the platform are the how-to-videos, documentation and user forums that Alpha Software provides.
"The GiantKillerTraining they offer by Dion McCormick was absolutely vital to me," he says. "I got up to speed quickly and applied lessons as I was going through them. The first thing I did was set up security, then learned step by step how to create basic to advanced UX, grid components and reports. I still go back and watch the videos for a refresher. It is surprising how much more I learned the second time around."
He also signed up for mentoring offered by Alpha, which he found extremely useful as well. Thanks to the training, mentoring and excellent overall support, he wrote the application quickly.
The result: A full-blown secure, web-based system with a mobile component that lets attorneys and investigators input and track data in real time.
Here's just one example of a feature he built using Alpha Anywhere: "The attorneys and investigators sign their billing statements for reimbursement. They have offices all over the county. Before, they had to fax or email them to the main office to be complied and sent to the county auditor for payment. After watching a video from Alpha CEO Richard Rabins I was able to design a form for the attorneys and investigators to enter their signatures within a UX and save it to the database. All they do now is approve the time entries by pressing a button in the app. The office staff would the print the billing recap reports that included the retrieved signatures. This is a huge time saver and a simplified approach to the previous multistep system."
He's considering using Alpha Anywhere for other clients as well, including a jet charter company that now uses Google Forms for performing trip evaluations. He is converting it to a full-blown Alpha Anywhere web application with a mobile component for pilots and flight attendants to enter data on the "fly".
And that, he says, may be just the beginning.
"With the numerous features of Alpha, I feel like I'm in a candy store!" he concludes.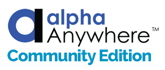 Building your own apps with the best low-code software.
Download Alpha Anywhere Community Edition - a free version of Alpha Anywhere.