Low-code software is driving the development process and business mobility in many industries. Business users, professional developers, and corporate development teams are using low-code and no-code software to build custom applications quickly. The software builds business apps fastly. The question is: how do you pick the right low-code app development software?
Low code platforms allow a wide range of users to build business apps without coding or having to know a programming language.
Businesses are adopting low-code software and training employees at an unprecedented rate. Analyst firms report that they expect the majority of new app development to be done with low-code software in the near future. Companies are also reporting better customer satisfaction, faster app production and cost savings when they empower business users to conceive and develop task-based apps.
I've written before about how low-code platforms are building applications and streamlining business process management to help businesses combat COVID-19 challenges. Rapid application development is creating applications that power remote work, workplace wellness, and more to get businesses to the new normal. COVID-19 has spurred the use of these platforms to help companies transform themselves.
Forrester estimates

that the low code development platform market would grow more than 40% a year and reach $21.2 billion by 2022.

Gartner forecasts

that more than 65% of app development would be done via low code application platforms by 2024.
So the real question for your company now is how to choose the best low-code app development platform for your unique situation?
A Checklist for Choosing the Best Low-Code Platform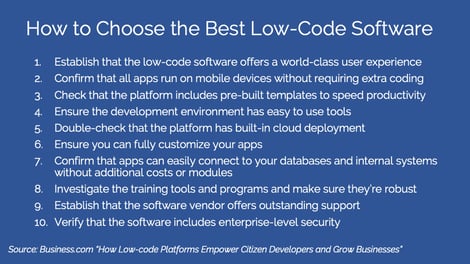 The Business.com article, "How Low-Code Platforms Empower Citizen Developers and Grow Businesses," offers some excellent advice for selecting the right low-code app development platform.
First of all, the article, advises, choose a low code platform that offers a world-class user experience. The article notes: "Ensure that apps developed using your platform of choice look great and perform well. Otherwise, your developers will only end up building shelf-ware."
Next, make sure the platform can build apps that run on mobile devices without having to do additional coding.
Especially important, the article says, is that the platform lets you use pre-built templates because they dramatically increase productivity. "For example," it says, "if you're looking at low-code platforms for process automation, make sure that your solution provides a variety of pre-built templates that can serve as starting points…It speeds up app development but the templates are well designed and tested so you'll end up with a more reliable and secure application."
The platform should include intuitive, visual, easy-to-use tools. That means it should have drag-and-drop tools, wizards, and similar features.
It's particularly important that the platform include cloud deployment. The article says, "Embrace the cloud. Seriously." That leads to greater security, easier deployment, and sped-up development.
The platform should let you customize your apps. It suggests, "The platform should include visual tools so that business users can customize and manage their apps themselves."
And the article goes on to say, it's particularly vital that the platform can easily connect to databases and a company's internal systems.
Often overlooked is the importance of training and support. Make sure that the vendor offers training. Customer support is also vital.
The article recommends, "Pay attention to the SLA and read online reviews. Happy customers often mention the quality of support they receive and it's something you should look out for in reviews and referrals."
Finally, pay attention to the basics, including enterprise-level security and scalability.
If you do all that you'll go a long way towards choosing the right low-code platform and quickly reaping its benefits.
A Handy Checklist for Choosing Low-Code Software
Establish that the low-code software offers a world-class user experience, such as a visual model

Make sure

all the apps it builds run on mobile devices without requiring extra coding

Check that the

platform

includes pre-built templates

you

can

use

to

speed

up

productivity

Ensure

the

development

environment

offers easy to

use

tools

Double-check

that

t

he platform has built-in cloud deployment

Ensure

you

can

fully

customize

your

apps for any business process

Confirm that the platform can easily connect to your databases, data models and internal systems

Investigate

the

training tools and programs and make sure they're robust

Establish that outstanding support is available

Verify that the software includes enterprise-level security
One Low Code Platform Checks all the Boxes

Alpha Software checks all the boxes for those looking to buy the best low-code development platform. Alpha Software products are ideal for companies of all sizes that want to build powerful business applications and apps. Alpha TransForm helps business users craft online
or offline mobile apps in minutes that utilize the latest mobile features (camera, GPS, etc.) for fast, accurate data capture. Alpha Anywhere has the unique ability to rapidly create mobile-optimized forms and field apps that can easily access and integrate with any database or web service and can exploit built-in role-based security or robust offline functionality. Alpha Anywhere offers a free version, allowing you to build all the apps you need at no charge and with no time limitations.