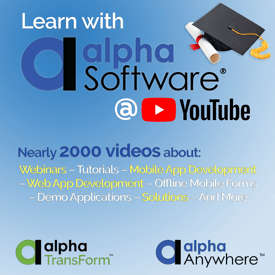 This month, Alpha Software consolidated its multiple video libraries and republished them to YouTube. The new Alpha Software YouTube Channel is a significant resource to anyone using or evaluating Alpha Software products or looking to learn best practices on web and mobile app development.
This expansive YouTube video library contains thousands of demos, tutorials, developer presentations, case studies, advanced techniques, product shortcuts, webinars and more. All videos are organized by product, offer complete descriptions with keyword, and are fully searchable. New videos are added weekly.
Click here and subscribe to the Alpha Software YouTube channel. YouTube will then notify you when it posts new Alpha Software videos to the channel.
The new video library offers 7 video playlists:
We Are Alpha Software
Getting Started with Alpha Anywhere
Getting Started with Alpha TransForm
Alpha Anywhere Demos and Q&A
The Complete Library of TransFrom Tuesday Webinars
Mobile App Examples from the Alpha Team, Customers and Independent Developers
Alpha Anywhere 4.0 Product Documentation
Thousands of developers are already subscribed and receiving the latest videos, tutorials and advanced technique lessons from the Alpha Anywhere Product Engineering team -- don't miss out. Click here to subscribe to the Alpha Software YouTube Channel today.