But merely buying low-code software doesn't mean your company will reap all its benefits. If you're used to traditional mobile app development, it can be tough to get a handle on how to use low-code most effectively.
The Forbes article, How To Get Started With A Low-Code Application Development Journey offers great advice about how to do it. Here are the highlights of what it has to say.
First, the article says, you should set the right expectations about what low-code platforms can do and what they can't do. It warns, "be aware that low code is not necessarily the answer to everything. For example, you may want to use a low-code platform to create and iterate on a dashboard or a front-end visualization for a mobile front-end linked to your cloud-native applications. But you may find that using low code is not the best approach for back-end operations, which traditionally exist on-premises or in a private cloud."
Because of that, the article says, you should consider using a hybrid strategy. It recommends: "You may want to build a hybrid strategy that leverages a low-code platform for your front-end interface and middleware, and a more traditional development for your back-end efforts."
Be careful, though, to match traditional tools to your low-code platform, to make sure that, for example, you can take full advantage of APIs so you can harness their full powers.
Using low-code isn't only about technology, though. It's also about knowing how to properly use your development talent. It suggests, "Get your lead developers involved with the low-code platform, and keep your junior developers focused on more traditional development. This may seem counterintuitive. But your time to market is very short with a low-code platform. So, you've got to make sure that if you're coming out with a release essentially overnight—and don't have QA cycles—you are getting things right."
It adds. "Appoint a lead engineer who can visualize the development flow, because it's on a fast track now. This technical leader will also know what outcome your organization expects from this work. Plus, senior engineers can identify what they need that is not included in your catalog of low-code development assets. They can then request those assets or enhancements from your low-code platform supplier or develop and add the needed assets to your catalog."
Choose the Best Low-Code Platform
You should also choose the best low-code platform possible. Alpha Software is ideal. Alpha Software products are well-suited for companies of all sizes that want to build powerful business applications and apps.

Alpha TransForm no-code software helps business users craft online or offline mobile apps in minutes that utilize the latest mobile features (camera, GPS, etc.) for fast, accurate data capture. Learn more about Alpha TransForm and try it free for 30 days.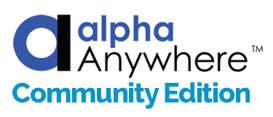 If you need to take apps further, Alpha Anywhere low-code development software has the unique ability to rapidly create mobile-optimized forms and field apps that can easily access and integrate with any database or web service and can exploit built-in role-based security or robust offline functionality. Build apps for free with Alpha Anywhere Community Edition.


Further Reading:


And if you would like to read even more about, check out

The Pros and Cons of Low Code Development or Expert Tips to Get Started with Low Code

And if you are concerned about low code security, you might be interested in How to Make Low Code Secure or An Analysis of Low Code Development Security Compliance.