By now the cloud has become a vital part of nearly every business of any size, because of the myriad benefits it offers. As Gartner puts it in its paper, "Predicts 2019: Increasing Reliance on Cloud Computing Transforms IT and Business Practices:" "Most technology innovation today is cloud-native or cloud-inspired. 'Cloud computing' is morphing into just 'computing.'"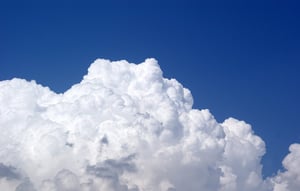 But just because you're using the cloud doesn't mean you're using it right. There's a good chance that you're doing it the wrong way, and overspending considerably while missing out on many of the cloud's benefits. So concludes the Gartner paper, "Three Moves for CIOs to Lower Business Costs With Cloud." It warns, "without cost optimization [businesses] could be overspending by more than 70%" on the cloud.
But it needn't be that way. The paper offers a number of ways that enterprises can reduce cloud costs while increasing benefits. First, is says, companies should, "Create a cloud cost center of excellence [CCoE] as a bimodal bridge aimed at driving down IT costs and business-impacting margins, if their cloud spending is expected to exceed $750,000 next year."
Companies should hire engineers with the right automation skill sets for the center, the report says. And it adds that the center should "work in agile approaches familiar to application developers, employing a leader who interfaces with the business and sets priorities." Equally important is that the engineers in the center "should spend at least 50% of their time on automation."
Finally, the report recommends, enterprises should "Become bimodal in cloud cost management by improving average IT costs and developing customer-facing digital business offerings with different service levels and rightsized margins."
The report's final conclusion is well worth paying attention to as well: "The cloud presents the perfect opportunity to set the organization in the right direction with respect to enabling the business to differentiate in the marketplace and do so cost-effectively. However, CIOs need to invest in a CCoE for the cloud that has an automation approach toward cost optimization. Otherwise, the organization as a whole will spend too much, and teams will never make headway toward the truly impactful examples."
How to Choose the Best Cloud for Your Business
Key to getting the most out of the cloud, and making sure you don't overspend, is choosing the right one. If you're looking to deploy web-based or mobile applications, an ideal one is Alpha Cloud. It takes care of installing and maintaining server software needed to run your Alpha Anywhere applications, allowing you to focus on building your business applications. These are among its benefits:
Self Deploying – No server or process management required
Self Healing – Stored configurations drive automatic recovery
Self Scaling – As usage goes up or down, capacity adjusts to match
Declarative – Just choose what you want (web sites, deployment schedules)
Tightly Integrated with Alpha Anywhere – Publish directly from Alpha Anywhere
Alpha Anywhere Application Server for IIS – Same software as we sell for on-premises
Metered/Utility Computing - Pay based on usage
It's elastic, so scales as needed, and automated so no manual work is required to use it. It's highly reliable, with redundancy and failover; its shared resources make it possible to spread out the workload among multiple data centers and servers. It's self-service as well, so you can get it immediately.
For more details, head here.