Field service workers are the often-overlooked cutting edge of digital transformation. New research and data shows how companies can dramatically improve their operations by adding mobile field service apps and artificial intelligence to field service management.
Modernizing Field Service Management
The global consulting management company ATKearny's offers advice for modernizing field service management in the report, "Field Services Races Toward Digital." The report notes: "Some companies uncover as much as $20 million in annual cost savings by adopting new digital approaches, insight-enriched customer relationships, and advanced data analytics."
Mobile apps for field service workers also increase customer satisfaction, the article found. These digital tools help companies gain new customers, reduce costs, improve deliveries, and free up customer service agents for more valuable tasks such as sales calls.
The Gartner report, "Magic Quadrant for Field Service Management" helps prove that. "By 2020, 70% of organizations will cite customer satisfaction as a primary benefit derived from implementing field service management, up from approximately 50% today." The report adds, "By 2020, more than 75% of field service organizations with over 50 users will deploy mobile apps that go beyond simplified data collection and add capabilities that help technicians succeed."
Mobile is the key technology powering the ways in which field service is helping digitally transform enterprises. And mobile can be made even more effective when it's combined with artificial intelligence, concludes the article, "The role of AI in Field Service Management."
The article points out the many ways in which AI and mobile can team up to transform field service management. One is in predictive maintenance, which uses sensors and mobile apps to gather vital data, then make recommendations on when and how to perform maintenance. Data-driven decisions can also be made by AI, and those decisions can be relayed to the field via mobile apps.
---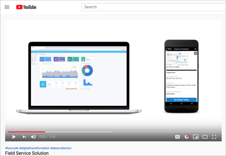 View A Robust Example of a Modern Mobile Field Service Solution
---
The Praxedo blog post, "5 Ways Artificial Intelligence is Making Field Service Management Smarter" details other ways mobile and AI can team up for better field service management. It can optimize routes that field service technicians take, changing them via mobile apps in real-time as customer demands and traffic conditions change.
Mobile apps can also become AI-enabled smart assistants for field service workers, according to the article. "When the technician arrives at the job site, the mobile app can send detailed and context-sensitive information, including the number and types of equipment on site, models and serial numbers, operating status, maintenance history, as well as step-by-step repair instructions. An intelligent mobile app allows technicians to connect directly to the equipment sensors to quickly and efficiently resolve problems."
Leveraging AI-Powered Field Service Apps for Field Service Management
It's easier than you might imagine to get started building AI-powered field service apps. To do it, download our free white paper, "Adding Artificial Intelligence Capabilities to Your Mobile Apps." It helps you think through some of the key market factors, technology starting points and business examples for applying AI to your next mobile app.
The paper also includes practical examples of how to leverage AI and machine learning with input from sensors to power better field service apps. The paper offers actionable advice to start embedding AI into mobile field service apps to improve user experiences and decrease churn.
View examples of field inspection apps built using Alpha Software technology.
Get started building your own first field service app.